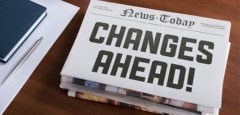 For 60 years NCNM has been building momentum, building professions, building natural medicine health care, building natural medicine research, and building a permanent campus home … all in terms of capacity, sustainability, reputation and reach in America.  The year ahead is big one for us.  It is our 60th year.  And, after six decades, we are now a university.  The state government and our accreditors have approved the change in status, noting that we have met the standards.  We arrived here thanks to the efforts of hundreds of people over many years.
As we prepare to roll out our new brand, a lot is happening; indeed a lot has to happen.  The Board of Directors decided at its last meeting that our new name will be National University of Natural Medicine … NUNM.  After reviewing the feedback of many hundreds of members of the community, it was clear that neither of the suggested new names resonated within our community.  And, it was clear that an acronym which retained elements of our history would work best going forward.  Changing the "c" to a "u" is a simple way to retain brand recognition while we build on our longstanding reputation as NCNM.  The big change emphasized in the new name is that we are now a university.
Within the new NUNM will be two colleges of medicine (the College of Naturopathic Medicine and the College of Classical Chinese Medicine) and two schools, (the School of Research and Graduate Studies and the School of Undergraduate and Part-Time Studies), four academic divisions in total.  In addition there are our support services departments and a growing medley of ancillary operations.
As well, NUNM will house five institutes:  the Helfgott Research Institute, which has grown remarkably in the last decade in its research successes and reputation; and our newer institutes, the Food As Medicine Institute, the Traditional Roots Institute, the Women in Balance Institute, and now the Age Wise Institute.  Our Continuing Education Division will keep pumping out its wonderful, expanding menu of offerings including monthly symposia, specialty CME weekends and numerous Community Education events.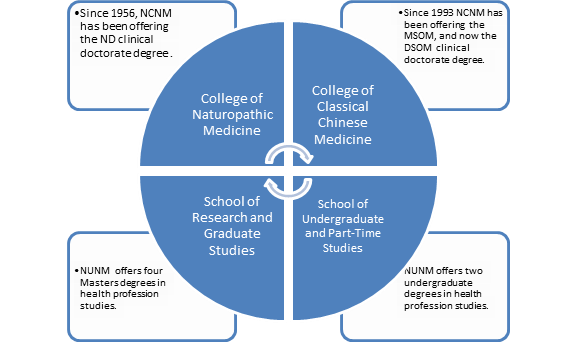 To strengthen and support this transforming landscape, there are a number of changes in our organizational structure.
Before the holiday break, we announced Jerry Bores' appointment as executive vice-president of Finance and Administration.  At that time, too, the NCNM community learned of Kathy Stanford's appointment as vice-president, Human Resources, and Cheryl Miller's appointment as associate vice-president, Student Affairs. Their expanded portfolios will help us to roll out and support new programs and new services in the rapidly evolving terrain of academic programming and services at our university.
Going forward, Provost Dr. Andrea Smith, will assume the new role of vice-president for Accreditation, Assessment and Institutional Research, an area of expertise for which she is one of our nation's leaders and most experienced professionals.  We will begin a national search for a new provost to lead our two colleges and two schools later this month.  As well, Denise Dallmann, MS, will soon head up the new School of Undergraduate and Part-Time Studies with its first two bachelors programs beginning in September of this year.
Our program mix is on the move.  Currently we have our ND, DSOM, MSOM, MSiMR, MScN, MScGH and MSiMH degrees, as well as our two Bachelor of Science degree programs (Integrative Health Sciences and Nutrition). Four more new programs are in the pipeline in the coming months, subject to the approval of our accrediting body, the NWCCU (Homeopathy, Sports Medicine, Expressive Arts, and Ayurvedic Medicine).  Late breaking news in this regard: at its meeting last week the board approved our proposed MScHom, a master's degree in Homeopathy.  We will now immediately submit this program proposal to the accreditor for its review.
To accommodate this growth and to improve facilities to serve our students, patients, alumni/ae and teaching and support staff, this year we will be entirely repurposing the "Services" Building as well as the cinder-block section of the Administration Building.  In these modernized, upgraded spaces we will build our brand new, second teaching/research kitchen (to be called THE BARLEAN FAMILY KITCHEN, thanks to a most generous gift from the Barlean Family of Washington) to support the growth in our nutrition courses, programs and research.  There's more; we are working hard on securing funding for a proposed new Sports Medicine complex also located in that building, which, in turn, will support a proposed new master's degree in Sports Medicine.
Both these repurposed buildings will also feature additional classroom space, academic and administrative office space, student lounge space, brand new space for our clinic lab, and newly renovated spaces for our plant and property team, security, campus development administration and clinic billing teams.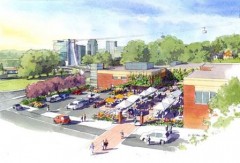 Also in the coming months, we will redesign the Meade Street house adjacent the Galen's Way Garden and convert it to direct university use.
In June as part of our "Singing Our Heroes Festival," we will celebrate our 60th anniversary as well as announce our new University status to the world.  Watch for a new logo, new branding materials and new developments in programs and people.  The future is friendly for our university. Let's celebrate this significant milestone.
David J. Schleich, PhD
President
NUNM