Questions? 503.552.1660 / Toll-free 877.669.8737 or admissions@nunm.edu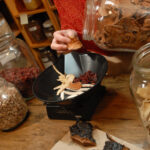 The MSOM program is the most comprehensive training in classical Chinese medicine offered in the US. In this four–year, 3,474 hour/226 credit program, students are immersed in the classical foundations of the medicine, receive a holistic education in Western medical sciences, and are trained in the clinical application of the major modalities of Chinese medicine—herbal formulation, acupuncture, moxibustion, bodywork, qigong and nutrition.
The curriculum has a strong focus on personal and professional cultivation in order to support the health of the students as they progress through school, as well as to optimize their proficiency as practitioners.
The ideal MSOM student wants:
A solid foundation in classical theory, including grounding in the classical texts of the medicine.
Training in the broadest spectrum of modalities within the scope of CCM, including classical herbal prescription.
A strong emphasis on cultivation, including weekly practica and nine weekend qigong retreats held in natural settings.
Mentorship training in CCM.
Access to an extensive set of elective courses designed to connect the serious student of classical Chinese medicine with the authentic milieu of the ancient scholar–practitioner.
The MSOM degree is accredited under Master's Degree standards by the Accreditation Commission for Acupuncture and Oriental Medicine (ACAOM), the recognized accrediting agency for programs preparing acupuncture and Oriental medicine practitioners. ACAOM is located at 8941 Aztec Drive, Eden Prairie, Minnesota 55347; phone 952.212.2434; fax 952.657.7068. This accreditation qualifies graduates to apply for acupuncture licensure in Oregon and other states, and to take all of the AOM examinations administered by NCCAOM, used in most states as a basis for licensure.
Graduates of the MSOM program are eligible to apply for acupuncture licensure in the state of Oregon and to take both the herb and acupuncture exams administered by the National Certification Commission for Acupuncture and Oriental Medicine, which many states use as a basis for licensure.
Students who are concurrently enrolled in the MSOM and ND programs complete a six–year course of study. Many hours of coursework from the ND program are transferable to the MSOM program.
Estimated Program Cost
Current tuition rates. Tuition is subject to change. Please contact the Office of Admissions for current information.
Click here to fill out our application form to begin the journey toward your Master of Science in Oriental Medicine degree. We look forward to receiving your application!