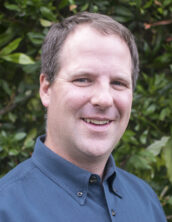 David Berkshire, LAc
College of Classical Chinese Medicine
David Berkshire is committed to unleashing his clients' potential for health and well-being. Understanding health and illness as fluctuating states uniquely expressed by each individual, he is committed to assisting clients to transform their body, mind, and spirit into a unified state.
Rather than treating conditions, David approaches pathology as it presents itself in each visit. Treatments are chosen to move a client's physiology toward balance and health. He focuses on helping clients who have struggled with chronic and recalcitrant illness. While using acupuncture, herbs, supplements, and homeopathy, he also encourages clients to identify and shift personal stories that limit their well-being. He guides them back to the basic natural elements that will reopen the path to their healing.
David has spent the last 10 years studying Chinese and natural medicine including herbal medicine, qigong, homeopathy, and CranioSacral energy work. He was drawn to these medicines after witnessing the powerful effects of Oriental medicine on a friend with a severe head injury. In his pursuit, he left a career as a chemical dependency counselor for adolescents. David received his Master of Acupuncture and Oriental Medicine degree from Oregon College of Oriental Medicine (OCOM) in Portland, Oregon. He earned a Bachelor of Arts degree in liberal studies, with an emphasis in English literature and religious studies, from Alaska Pacific University in Anchorage, Alaska.
Along with supervising observation shifts at the NUNM Health Centers, David practices privately at his integrative clinic in northwest Portland, Kwan-yin Healing Arts Center. He practices there with several other acupuncturists and naturopathic physicians. Committed to teaching as well as practicing, David is adjunct faculty at NUNM, where he teaches Business Seminar and Internship. At OCOM, he teaches Chinese Herbal Board Review, Business Marketing, Dynamics of Illness, and Exploring the Five Elements. He is also a teaching assistant and substitute lecturer at Awakening to the Soul of Our Medicine in Portland.
When not practicing or teaching, David takes great pleasure watching his child grow. He also enjoys fly-fishing, rafting, and infusing his practice by searching for the spirit of acupuncture points in nature.
Title

Associate Professor

Focus

Traditional Chinese Medicine

Education

Oregon College of Oriental Medicine, MAcOM, 2001

Office Phone

503.552.1816

Email

Courses

CCM542E Five-Element Retreat
CCM723 Business Seminar I
CCM909 Clinical Internship Rotation
CCM809 Clinical Observation Rotation
CCM993 Master Thesis II
CCM999 Master Thesis III