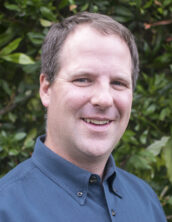 David Berkshire, LAc
David Berkshire, L.Ac. has been teaching full time for over 10 years as an Associate Professor in the College of Classical Chinese Medicine at National University of Natural Medicine. He has held numerous administrative roles including Associate Dean of Clinics and AOM Residency Director.
In addition to teaching, David is the founder and co-owner of two large integrative medical clinics in Portland, OR: Kwan-Yin Healing Arts Center, and Kwan-Yin Healing Arts Center East. Both clinics have numerous naturopathic as well as Chinese medical residents. David is also the current president of the non-profit organization Worsley Institute. David's clinical background included initial training in TCM at Oregon College of Oriental Medicine, an informal apprenticeship training in Five Element acupuncture with David Ford, L.Ac., and in-depth training in drainage homeopathy with Dr. Gerard Geuniot. Currently, he is studying with Judy Worsley learning new ways he can better serve his patients.
Title

Associate Professor

Focus

Classical Chinese Medicine

Education

Oregon College of Oriental Medicine, MAcOM, 2001

Office Phone

503.545.2566

Email

Courses

Clinical Case Presentation I-III
CCM Diagnosis Lab II
Traditional Mentorship Tutorial I-III
Imaginal Experiential Inquiry
Clinical Mentorship Rotation
CCM Internship Rotation
Billing Insurance for the Chinese Medicine Professional
Five Element Retreat