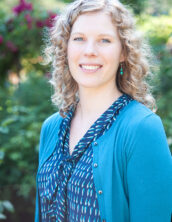 Andrea Partel, ND, LAc
Dr. Andrea Partel is a naturopathic physician and licensed acupuncturist. She enjoys seeing a wide variety of patients, with an emphasis in women's and adolescent health, digestive disorders, endocrine (hormonal) balance, anxiety and depression, and allergies/immune health. Striving to understand each patient as an individual, she utilizes both conventional and complementary therapies to stimulate the natural healing process and help patients make lasting changes in their lives. She enjoys working collaboratively with practitioners in other disciplines and specialties, and believes that the best medicine is one that is truly integrative.
Dr. Partel earned her naturopathic and acupuncture degrees from Bastyr University in Seattle. She completed a two-year naturopathic residency at NUNM. She oversees student clinic shifts at NUNM Health Centers and Rosehaven community clinic. In addition to her role as adjunct clinical faculty at NUNM, Dr. Partel also maintains a private practice in Wilsonville, Oregon. In her spare time, she enjoys cooking, reading, gardening, and travel. Dr. Partel is a proud member of the American Association of Naturopathic Physicians and the Oregon Association of Naturopathic Physicians.
Title

Adjunct Faculty

Focus

Primary Care & Women's Health

Education

Bastyr University, ND, MSA, 2009

Office Phone

503.552.1837

Email

Courses