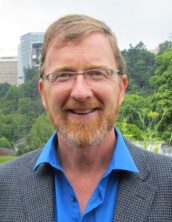 Roger Batchelor, DAOM, LAc
Roger Batchelor began studying natural therapies, such as bodywork and herbs, in 1983. He graduated from SW Acupuncture College in New Mexico in 1987. After graduation he began a ten-year career in public health, working for Central City Concern as an LAc, primarily at the 54-bed Hooper Center. He taught acupuncture and qigong at OCOM, traveling to China four times for further study. Completing a clinical doctorate in 2005 led to becoming an OCOM department chair and participating in multiple research projects.
Roger began teaching classically based acupuncture at NUNM in 2009. He enjoys being with his family, attending spiritual gatherings, gardening, hiking and tandem biking.
Title

Associate Professor

Focus

Classical Chinese Acupuncture

Education

Oregon College of Oriental Medicine, DAOM, 2005

Office Phone

503.552.1735

Email

Courses

Auricular Points
Acu-Moxa Points I & II
Acu-moxa Techniques I & II
Chinese Diagnosis Lab II
Classical Cases
Bridging Heaven & Earth: Ways of Knowing I-III
Case Observation I & II
Clinic Internship
Mentorship