Bachelor of

Science in

Integrative Therapeutics:
Massage Therapy
The Bachelor of Science in Integrative Therapeutics: Massage Therapy (BSiT-MT) degree program is specially designed for third-year students seeking to develop an in-depth understanding of therapeutic interventions with a focus on massage therapy. In addition, our pre-med/pre-health designed curriculum features three core threads in natural sciences, critical thinking and social sciences.
The natural sciences thread includes anatomy and physiology, organic chemistry, biochemistry and genetics. These courses provide a solid scientific understanding of the human body and the basic principles of health and disease, and provide fundamentals in research, and scientific and professional communication. The social sciences thread highlights the interpersonal and professional growth of the student with a strong focus on the development of cultural competency skills, ethical decision-making, expository writing, self-reflection and self-management.
Your studies include in-depth clinical training, allowing you to learn how to apply the art and science of massage therapy in an environment that values critical thought and using the principles of evidence-informed practice.
Learn more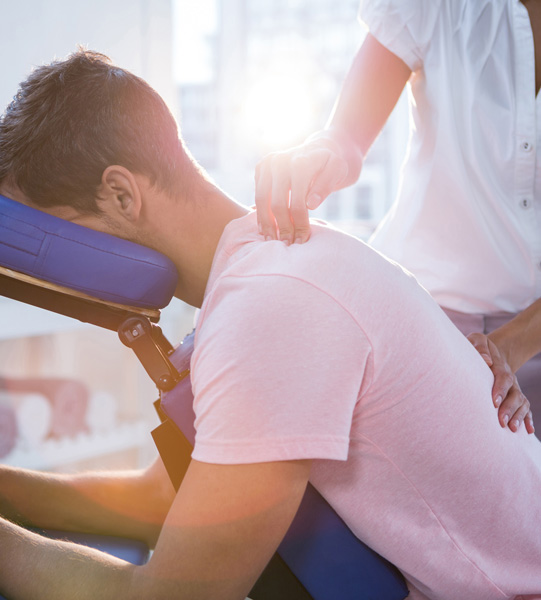 We are now accepting applications to the program for the Fall 2018 term.
Apply Now
BSiT-MT

Admissions Requirements for BSiT-MT

GPA

A GPA of 2.0 or higher

Prerequisite Courses

Students may apply to the programs while still completing their prerequisite coursework and may receive conditional admittance pending successful completion of those courses. Applicants must have a minimum cumulative GPA of 2.0 and have either 60 semester or 90 quarter credits before beginning coursework at NUNM. All applicants must have completed the general education requirements of the previously-attended institution. Within these general education requirements, NUNM has specific requirements. These are outlined below.

| | | |
| --- | --- | --- |
| General Biology | 3 | One academic year of General or Principles of Biology. As these courses require a laboratory component, they may not be taken online. Students on a semester system, only need to complete two courses in this subject. |
| General Chemistry | 3 | One academic year of General or Principles of Chemistry. As these courses require a laboratory component, they may not be taken online. Students on a semester system, only need to complete two courses in this subject. |
| Mathematics | 1 | Must be algebra, calculus, or math-based statistics. |
| English Composition | 2 | |
| Social Sciences | 3 | One of these courses must be human psychology. |
| Humanities | 3 | Courses in the areas of art, religion, philosophy, literature, music and other related fields will satisfy this requirement. |
| Oral Communication/Public Speaking | 1 | Courses in oral communication and public speaking will satisfy this requirement. |
| Electives | 3 | A maximum of 3 quarter or 2 semester credits of physical education may be applied |

General Biology — 3 Courses
One academic year of General or Principles of Biology. As these courses require a laboratory component, they may not be taken online. Students on a semester system, only need to complete two courses in this subject.
General Chemistry — 3 Courses
One academic year of General or Principles of Chemistry. As these courses require a laboratory component, they may not be taken online. Students on a semester system, only need to complete two courses in this subject.
Mathematics — 1 Course
Must be algebra, calculus, or math-based statistics.
English Composition — 2 Courses

Social Sciences — 3 Courses
One of these courses must be human psychology.
Humanities — 3 Courses
Courses in the areas of art, religion, philosophy, literature, music and other related fields will satisfy this requirement.
Oral Communication/Public Speaking — 1 Course
Courses in oral communication and public speaking will satisfy this requirement.
Electives — 3 Courses
A maximum of 3 quarter or 2 semester credits of physical education may be applied

A grade of C or better is required for all prerequisite coursework. Candidates may apply while in progress.

Documents & Essays

Applicants are required to submit essays to be considered for admission. Essays provide applicants the opportunity to share their background, abilities, interests and experiences, and how these will make them a good candidate for the programs at NUNM. Applicants should share some personal experiences and genuine thoughts in their essays. Explaining why you are applying to NUNM and how you would enrich that community is also helpful. The Admissions Committee will look for writing ability, as well as content when reading the essays.

Required Documents and Essays for the BSiT-MT Program

Resume

A chronological resume of work, educational, and volunteer experience. Include work experience, internships, research, activities, publications, community service, and any honors/awards received.

Personal Statement

Share with NUNM a little about yourself and background. (800 words, typed, double spaced)

Undergraduate #1

What interests you most about receiving this undergraduate degree from NUNM? (500 words, typed, double spaced)

Estimated Program Cost

First-Year Tuition & Fees for BSiT-MT*

| | |
| --- | --- |
| Credits | 44.5 |
| Cost/Credit | $225 |
| Tuition | $10,013 |
| Fees** | $567 |
| Total | $10,580 |

* The prices listed above reflect an estimate based on the 2017-2018 academic year. Tuition is subject to change.

** Click the dollar amount to see an itemized list of fees for the BSiT-MT program.

Total BSiT-MT Degree Credits

Core program credits

98.5

Elective credits

0

Total required credits

98.5