A Report on NUNM's Economic Impact on Portland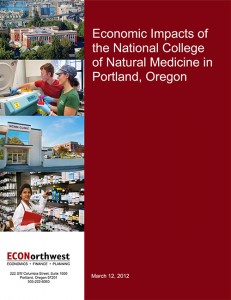 In 2012, National University (College) of Natural Medicine commissioned ECONorthwest, a firm specializing in economics and financial analysis, to measure the economic impacts of NUNM's activities within the three-county Portland metropolitan area.
The report's findings: The report demonstrates the contributions of the college's activities to the local economy.
NUNM had a $55.8 million impact on Portland's economy in 2011 and generated 613 jobs. In addition, the study estimates that every $1 million the college spends generates an additional $1.2 million in spending by others; every $1 million of income NUNM generates is linked to another $8000,000 in income by workers in other sectors of Portland's economy; and every 10 direct jobs attributed to NUNM, on average, leads to another seven jobs elsewhere in the city.
Learn more: Download a copy of the Economic Impact Report