Retreat into Stillness, Advance into Wellness
What if conventional doctors had more to offer patients for stress and chronic conditions than pharmaceuticals or supplements and some quick suggestions about sleep, exercise and nutrition? What if they understood the long-term impact of negative emotions held in the body and were able to address this with their patients?
More than a century ago in China, an educator and healer by the name of Wang Fengyi discovered that a serious illness he had as a young man was a manifestation of negative emotions he held in his body. He took ancient teachings influenced by Confucian family values and translated them into a five element healing system known as Shan Ren Dao (path of the Real Person) to help people unwind patterns of disease through releasing emotions such as blame, anger and judgment. He taught Shan Ren Dao throughout northern China, and in recent years others have continued teaching it, including Professor Liu Lihong, esteemed director of the Clinical Research Institute of Classical Chinese Medicine at Guangxi University of Traditional Chinese Medicine, and a key figure in reviving interest in classical Chinese medicine in China.
Today, the Shan Ren Dao system, sometimes referred to as "virtue healing," because of virtues and negative emotions associated with specific organs in Chinese medicine, is taught in retreats throughout China. In 2011, a similar retreat, the first offered outside of China, was led by Tamara Staudt, ND, LAc. The groundwork for the Shan Ren Dao healing retreat was laid in 2010, when NCNM Professor Heiner Fruehauf worked with Dr. Liu Lihong to organize China's first Shan Ren Dao retreat open to foreigners. A sizeable group from NCNM attended. The college will offer its fourth Shan Ren Dao retreat June 20–July 5 at the Ananda Center at Laurelwood in Gaston, Ore. An elective course presented through NCNM's School of Classical Chinese Medicine, the retreat is limited to 26 participants who are serious about self-transformation.
Emotional and Physical Healing
The primary instructor will once again be Tamara Staudt, an NCNM faculty member and former dean of clinical education. Laurie Regan, PhD, ND, dean of the School of Classical Chinese Medicine, will guide retreat assistants. Both doctors have years of experience studying and teaching qigong, as well as working with groups and individuals on addressing the physical impact of emotions held in the body. Both attended the 2010 retreat in China and consider it to be life changing.
"This is not a retreat where the experience fades afterwards. You step into a deeper sense of self-responsibility for your emotions and that affects every aspect of your life." —Tamara Staudt
"Emotionally, people feel transformed," says Staudt. "They report feeling more themselves than they've ever felt, with greater capacity to deeply connect with others. Distinct physical benefits may begin within a few days, even with chronic conditions. This is not a retreat where the experience fades afterwards. You step into a deeper sense of self-responsibility for your emotions and that affects every aspect of your life. You viscerally understand their impact on yourself and others so you can choose to express yourself differently to honor yourself and others."
According to Staudt, some people participate because they have a disease or health condition. Others come because their life doesn't feel fulfilling or they feel as if something is missing. Shan Ren Dao allows participants to take a break from the responsibilities of life for two weeks—a sabbatical from daily distractions like computers and cell phones. Mornings begin with learning and practicing the 14 Movements of Jinjing Qigong. Qigong is not part of the retreat in China, but is a wonderful addition, says Staudt, "Guided physical movement, breath and focus supports the release of toxins and patterns from the body while other work is being done at the emotional level."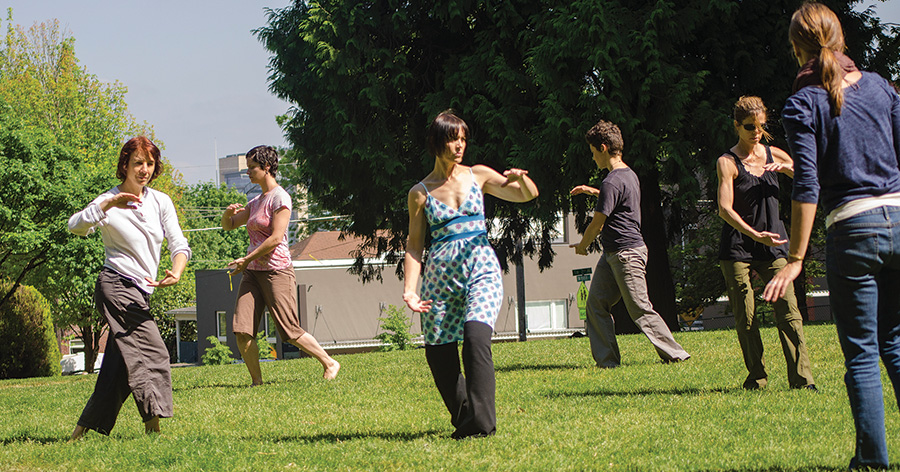 Days include lectures on Wang Fengyi teachings and the Shan Ren Dao system, plus contemplative exercises that guide participants in exploring the personal relevance of the teachings. The exploration typically includes journaling, meditation, visualization and "sound practices" using specific vocalizations to vibrate through important organs in the body. In the evenings, participants receive support in releasing emotions that arise during the day. Much of the retreat, however, is silent, allowing for deep inner reflection.
Participants need not have background in any elements of the retreat, including qigong or Chinese medicine. Although Shan Ren Dao is based on classical Chinese medicine theory, it's not scholarly, Regan says. "It's very deep, but simple and practical, offering a framework to continue to apply in life on a daily basis whether or not you work in Chinese medicine." At the end of the retreat, says Staudt, people leave with an internalized set of guidelines for returning to their lives. "We typically try to change ourselves through our head, but our head can't change what's subconscious. In Shan Ren Dao, participants experience deep within themselves the impact of imbalanced emotions, which naturally leads to greater self-responsibility in all their interactions. They've had the time to dump from the past, which clears the way back to one's natural capacity to connect to qualities we all have but may not have used that much."
Just how powerful a role can emotional release play in one's health? "There are innumerable medical approaches and healing modalities that work to resolve the symptoms of chronic disease," says Regan. "These symptoms typically return, though, unless there is resolution of the deeper emotional patterns. As the negative emotions release, the patient's inherent health and positive qualities naturally emerge."
Limited to 26 applicants. Subject to application and interview. Approved by the Oregon Board of Naturopathic Medicine for 97 CEUs; PDA approval pending from the National Certification Commission for Acupuncture and Oriental Medicine.