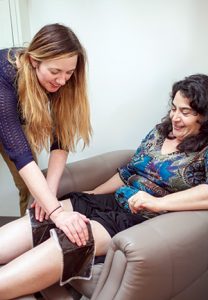 Mud has been used for centuries due to its therapeutic effects—and peat, the swamp and bog-derived mud, is believed to have a range of complex components useful for medicine, including analgesic and anti-inflammatory properties.
NCNM student Lindsay Rogers is conducting what she believes is the first study in North America of peat and its healing effects on osteoarthritis of the knee. The research is through NCNM's School of Research & Graduate Studies as part of her work toward an MSiMR (Master of Science in Integrative Medicine Research) degree.
Dean Heather Zwickey is the principal investigator on the study, with adjunct instructor Kurt Beil, ND, MSOM ('06), serving as faculty mentor for Rogers. A small group of participants between ages 35 and 65, who have been diagnosed with osteoarthritis of the knee, will receive a peloid treatment—a warm therapeutic mud pack consisting of peat. After six weeks of therapy, Rogers and team will measure key markers of inflammation through blood tests, and will assess pain, stiffness and disability using the Osteoarthritis Symptom Index.
The majority of research, as well as cultural awareness of thermal mud therapies for chronic health problems, has taken place in Europe, said Rogers, a discovery she made while traveling there. Americans, she said, are somewhat aware of the therapies through spas, but due to work schedules or costs, participate much less than Europeans. "I didn't understand why we don't embrace it in the United States," she said, adding that spa therapies are quite useful in removing pain, a key obstacle in the treatment of chronic disease.
"The research project is critical to the students' learning experience in the MSiMR program," said Dr. Beil, "It provides them with a hands-on opportunity to conduct their own research…it gives them actual, practical knowledge of how research is conducted, which is a vastly more effective method than simply reading papers and looking at graphs. It's an essential part of the MSiMR program—and one of the aspects that makes it a unique program in the world of integrative medicine research."
Although Rogers and other students doing research in the school design and implement studies according to their interests, the faculty team is there every step of the way to help where needed.
"We provide guidance throughout the development, implementation and analysis of the project, all the way from hypothesis generation through publication and data presentation at conferences. It's a very one-on-one process that lets us as faculty work directly with each student to develop their individual research skills," said Dr. Beil.
Rogers agreed, noting, "Running this clinical trial has taught me a lot about study design, protocol development, the IRB process, recruiting and screening participants, collecting and analyzing data, and working with a team."
She added, "I would like to continue contributing to research projects after graduation. In my experience, spa therapies are highly sensorial and can bring one's awareness back into the body very quickly. I'm interested in exploring the use of spa therapies in the treatment of anxiety, addiction, and other patient populations that will benefit from increased mind-body awareness."