A new Master of Science in Integrative Mental Health (MSiMH) degree program has also been approved by the NWCCU. Classes are scheduled to begin fall term 2015.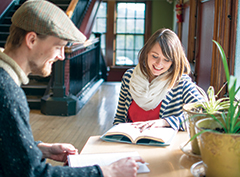 The new program is designed for students who already have licenses to work with patients or are currently enrolled in a healthcare degree program. Admissions Director Brandon Hamilton said the initial market will be current NCNM students looking to add mental health expertise to their training.
Angela Senders, ND ('05), MCR, assistant dean of the School of Research & Graduate Studies, said it is designed to take a whole-person, whole-systems approach to mental and emotional well-being. "I'm so excited about this new offering," Dr. Senders said.
"Many NDs and Chinese medicine providers choose to focus on mental health in their practice, and until now, we've had to cobble together postgraduate trainings and seminars in order to tailor our practices to mental health concerns. With this program, students will learn skills while they are in school that will allow them to delve deep into this subject area and create a truly integrative, personalized approach to care."
More on the Web: nunm.edu/msimh
This just in: Chinese medicine doctoral program approved. More on the Web: nunm.edu/DSOM