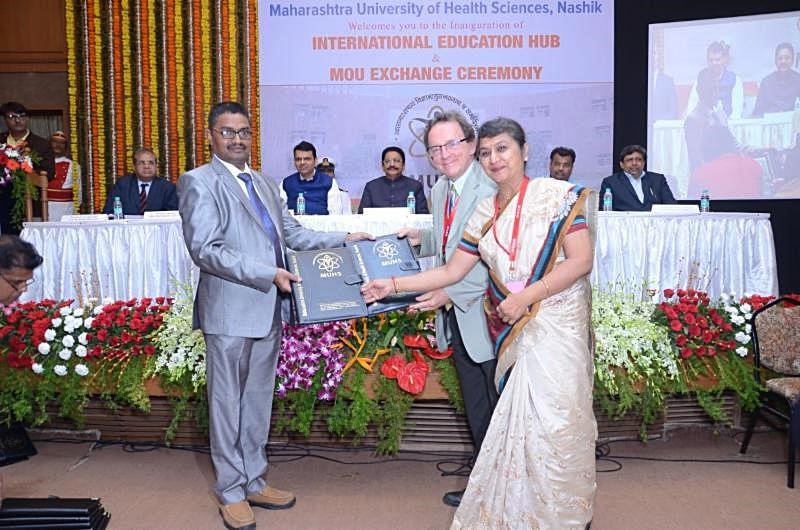 The chair of NUNM's new Ayurveda program, Savita Rajurkar, MD, PhD, ND (India), has been working quietly behind the scenes this summer with influential and prominent colleagues in India to provide an Ayurvedic curriculum and educational experience that is by far the very best Ayurvedic medicine program being offered in the United States.
Dr. Rajuarkar and President Schleich just returned from a weeklong trip in India, where they were invited to meet with officials at the Ministry of AYUSH, India's governmental agency responsible for education and research in Indian indigenous medicine systems (i.e., Ayurveda, Yoga, Naturopathy, Unani, Siddha and Homeopathy). The meeting-with the Minister of AYUSH, Shri Naik-introduced NUNM to the AYUSH Ministry with the intention of securing official Indian support for NUNM's Ayurveda program and exploring potential future collaborations in the U.S. and India.
While those important discussions with AYUSH remain underway, Drs. Schleich and Rajurkar also met with senior officials at Maharashtra University of Health Science in Nashik District of Maharashtra where they exchanged signed Memorandums of Understanding (MOUs) between NUNM and Maharashtra U. The MOUs are agreements to collaborate in academics and research, an official first step toward a partnership that could offer learning opportunities for students, faculty exchanges and potential opportunities for cultural exchange.
NUNM's new Master of Science in Ayurveda, which was first announced a year ago, is being offered as a standalone program this fall. The 64-credit course offers an in-depth level of scholarship and clinical training, unique to NUNM–the only masters of Ayurveda offered by a U.S. regionally accredited university.