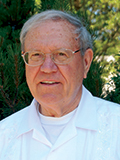 National University of Natural Medicine mourns the loss of Dr. John R. Campbell, renowned scientist, educator, author, and NUNM board director emeritus. Dr. Campbell dedicated his life to excellence in higher education and served NUNM long and faithfully for many years.
Born and raised on a livestock and fruit farm in Anderson, Missouri, Dr. Campbell earned his master's and PhD in dairy manufacturing and cattle nutrition and physiology from the University of Missouri-Columbia. Before serving on the NUNM board from 1997–2012, he had a long and illustrious career in academia at the University of Missouri-Columbia, University of Illinois, and Oklahoma State University. He was honored as a dean emeritus in the College of Agriculture at the University of Illinois; and president emeritus of Oklahoma State University (OSU), where he was president from 1988–1993. He continued teaching animal sciences at OSU until 1999 and taught more than 12,000 students throughout his career. NUNM awarded him an honorary Doctor of Letters degree for his distinguished academic service in June 2013.
Dr. Campbell authored or co-authored more than 100 scientific papers and articles, as well as a number of books on higher education and teaching. In addition to his expertise in animal sciences, he was a leading expert on land-grant colleges and universities. His book Reclaiming a Lost Heritage: Land-Grant and Other Higher Education Initiatives for the Twenty-First Century (1995) brought him widespread recognition as an authority on land-grant institutions and led to his service on university teams throughout the world. He was a consultant to the World Bank in India, helping extend the U.S. land-grant education model to developing countries. He served three consultancies with USAID in Egypt on education and food production.
Dr. Campbell received numerous honors for his contributions to American higher education, including listings in several editions of Marquis Who's Who Publications. Said NUNM President David J. Schleich, PhD: "John was such an enduring friend of NUNM with an extraordinary legacy of service. NUNM was fortunate to have had his loyal counsel and support for so many years. He was a remarkable educator and devoted husband, father and friend. He will be greatly missed."
Dr. Campbell is survived by his loving wife Eunice, his daughters Karen and Kathy, and numerous friends and colleagues. A celebration of Dr. Campbell's life will be held Saturday, Dec. 1, at the Memorial Funeral Home in Columbia, Missouri.