Shehab El-Hashemy, ND, Dean of Naturopathic Medicine
Leslie Fuller, ND, Associate Dean, Academics
Dee Saunders, ND, MS, Associate Dean, Graduate Medical Education
Carrie Baldwin-Sayre, ND, Associate Dean, Clinical Education
Questions? 503.552.1660 / Toll-free 877.669.8737 or admissions@nunm.edu
Earn your Doctor of Naturopathic Medicine Degree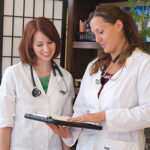 NUNM's Doctor of Naturopathic Medicine is an intensive four–year doctoral program that trains individuals to become primary care physicians with an emphasis on the art and science of natural medicine. Upon graduation, candidates are prepared for and qualified to sit for NPLEX, the North American board examination which confirms licensure eligibility in states and provinces that license naturopathic physicians.
Natural medicine is known by many names: alternative medicine, integrative medicine, complementary medicine and others. One reason for its many labels is that natural medicine includes an expansive array of healing modalities. Your education at NUNM will include the following therapeutic methods. 
Mind-body medicine and lifestyle counseling
Clinical nutrition and nutritional counseling
Homeopathy
Physical medicine, including hydrotherapy, physiotherapy and naturopathic manipulative therapy
Botanical medicine
Conventional therapies including pharmaceuticals, IV therapy and minor surgery
Each of these modalities presents an opportunity for optimizing health and treating disease in a patient-centered model of care. When holistic or natural medicine modalities are used in conjunction with conventional medicine, they are called complementary medicine. When used as a substitute for conventional medicine, the same modalities may be termed alternative medicine. When a multiple healthcare practitioners work together to create the optimal healing plan for the patient, it's called integrative medicine.
As more people seek combination treatments, all physicians and healthcare practitioners will need to be knowledgeable about both conventional and natural medicine. Our graduates are uniquely positioned as providers able to bridge the gap between conventional and natural medicine.
We invite you to learn more about NUNM, our program, and be on the forefront of today's healthcare system.
Hear what NUNM student Josh Corn has to say about the ND program.