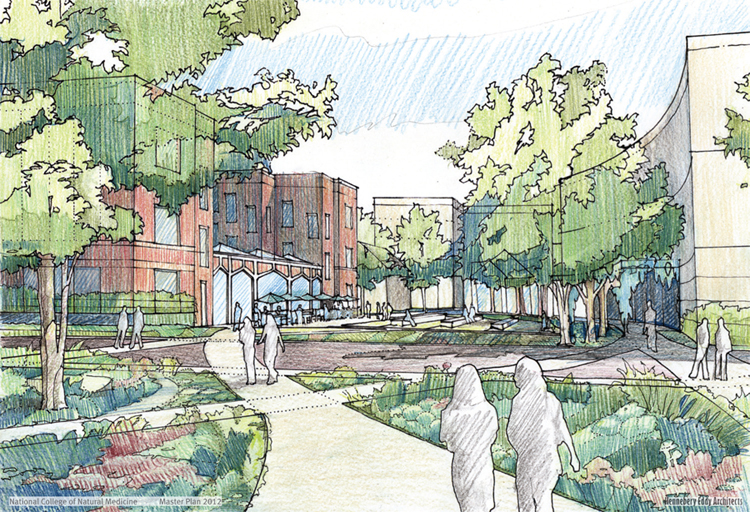 The NUNM Master Plan envisions the transformation of NUNM's campus into welcoming urban green space, a natural living environment to promote health and well-being—the ideal campus  for generations of natural medicine practitioners and physicians— the healthcare leaders of tomorrow.
The NUNM Master Plan is a large document; we have separated it into four parts for readability.
Part 1: The 20–Year Vision
The plan for NUNM will serve not only its students but also the surrounding neighborhood and city as well.
Table of Contents
Letter from the President
Introduction & Vision
Download Part 1 of the Master Plan
Part 2: Transformative Actions
Gathering spaces will be located throughout the campus, taking advantage of opportunities to enjoy views and hold informal gatherings.
Healing the Landscape
Greening the Campus
Creating a Place
Reconnecting to the Neighborhood
Growing Sustainably
Phases 1 – 5 of the Master Plan
Download Part 2 of the Master Plan
Part 3: Landscape & Sustainability
The Master Plan seeks to transform the campus into a place where students can connect within an urban natural environment by increasing useable green space throughout NUNM's campus boundaries.
Landscape
The Commons, Gathering Spaces and Gardens
Landscape, Water and Green Roofs
Streetscapes, Pedestrian Corridors and Parking Lots
Sustainability
Distributed Infrastructure
Building Renovations
Performance Contracting
Integrated Design
Campus Development Standards
Thinking Big
Download Part 3 of the Master Plan
Part 4: Transportation, Access & Parking, Process & Planning Committee
NUNM's Master Planning Committee, which included representatives from the college's staff, students, faculty and board, collaborated with representatives from the City of Portland, TriMet and the Oregon Department of Transportation to examine what was working on campus and where improvements were needed.
Pedestrian and Bicycle Access
Transit Access
Auto Access
Parking
Master Plan Process
Master Planning Committee & Consultant Team