Ongoing Beginning/Intermediate Qigong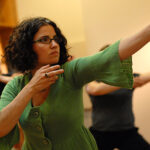 Tuesday, 5:30 – 6:45 p.m.
Instructor: Tamara Staudt, ND, LAc
Schedule: Weekly classes continue through March 20, 2018 (no class December 19 and 26, 2017)
Cost: $12 per drop-in class or $40/month, payable to the instructor at class.
Location: Academic Building, room 305 | NUNM 049 SW Porter St.
This is a great class for those with previous qigong exposure, and is also accessible to beginners with a strong interest in qigong.
Focus of study and the primary form taught varies seasonally and/or to address the specific needs of the class participants.
You are invited to join at any time—please wear comfortable clothing.
Questions? Contact: Dr. Staudt or at 503.552.2093