Ongoing Beginning/Intermediate Qigong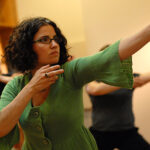 This meditative practice uses slow, graceful movement to promote the circulation of qi and enhance overall health. Qigong combines movement, breathing and meditation to store and focus energy for personal mastery and for healing oneself and others.
Tuesdays, 5:30 – 6:45 p.m. through June 25. No classes on April 2.
Instructor: Tamara Staudt, ND, LAc
Where: Room 305, Academic Building
Cost: $12 per drop-in class or $40/month, payable to the instructor at class.
Summer Location: Weather permitting, class will be outside at Lair Hill Park | 3000 SW Barbur Blvd
In case of inclement weather, class will be held at the NUNM Academic Building, room 305 | 049 SW Porter St.
This is a great class for those with previous qigong exposure, and is also accessible to beginners with a strong interest in qigong.
Focus of study and the primary form taught varies seasonally and/or to address the specific needs of the class participants.
You are invited to join at any time—please wear comfortable clothing.
Questions? Contact: Dr. Staudt or at 503.552.2093