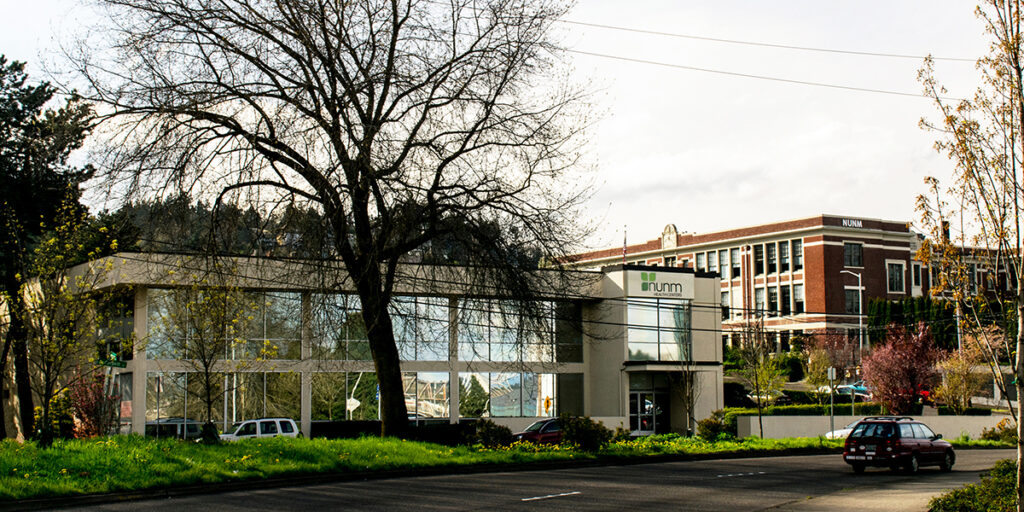 Updated May 18, 2022
Due to the high rates of transmission in Multnomah County and the increasing numbers within our own community, NUNM is reinstating its campus-wide facemask requirement effective Monday, May 23. It is strongly recommended that you begin wearing a facemask on campus immediately with either a surgical mask, N95, or KN95 mask (i.e., no cloth masks). NUNM faculty and staff are responsible for procuring their own personal protective equipment (PPE) and eye protection.
The facemask requirement will stay in effect through Monday, June 20. The COVID Operations Team will update the community with any new information at that time.
Facemasks have been one of our most effective tools against COVID-19. As cases rise across the state, our priorities are to minimize the spread and protect our community.
DO NOT COME TO CAMPUS IF YOU ARE ILL, REGARDLESS OF THE REASON. If you are symptomatic and test negative for COVID-19, do not return to campus until your symptoms have resolved.   
Any employee who attends at the Lair Hill Health Center is required to watch the following video on clinical infection control measures prior to arriving to their first scheduled shift: COVID Infection Control Protocol (nunm.edu)
COVID-19 Reporting Form

The university created a COVID-19 Reporting Form as a tool to monitor COVID-19 cases on campus. We ask all faculty and staff members to complete this form to help keep track of and respond to COVID-19 cases on campus.
Please use the form to:
Notify the university you are symptomatic and need help or
Notify the university you have tested positive
The form will require you to log in with your NUNM email account.
Upon reporting, employees will be contacted by NUNM Vice President Kathy Stanford for further guidance.
In addition to reporting potential exposure(s), employees should contact their primary care provider for quarantine and testing recommendations. Individuals should remain quarantined until their provider determines they are able to return to the NUNM campus according to Multnomah County Health Department guidelines.
Telecommuting and Hybrid Work Policy

Telecommuting/remote work, when in the shared best interest of the university and employee, may be a viable work arrangement in cases where the individual employee, the job, and the supervisor are all well suited to such an arrangement.
If you are interested in working in a hybrid fashion, please work with your manager and subsequently the head of your division to complete and sign the Telecommuting Remote Work Agreement, which will be in place from August 2021 until August 2022, as this agreement must be renewed annually to continue.
As part of the agreement, employees agree to maintain a safe and ergonomically sound work environment, to report work‐related injuries to the managing supervisor at the earliest opportunity, and to hold NUNM harmless for injury to others at the remote work location.
Prior to approval being granted for remote work, employees will provide a picture of their home workspace to HR for approval. Please send a digital picture of your home workspace to HR as you complete and sign the agreement. Please complete the

NUNM Telecommuting/Remote Work Agreement Form

prior to any remote work for the Fall 2021 term beginning Sept. 13, 2021.
Frequently Asked Questions
You should return to your place of residence and self-quarantine until cleared by a medical professional or at the conclusion of one of the following scenarios:
If you have a positive COVID-19 test, you should remain at your place of residence for at least 10 days after illness onset and 24 hours after the fever is gone, without use of fever-reducing medicine, and other symptoms are improving. 
If you have a positive or suspected positive COVID-19 test, you must notify the university by filling out a COVID-19 Reporting Form.
If an employee tests positive, contact tracing will occur and any individuals who have come in direct and sustained contact with the infected individual will also be tested. Affected individuals should self-quarantine.
If you do not undergo COVID-19 testing, you should remain at your place of residence until 24 hours after your fever is gone, without use of fever-reducing medicine, and other symptoms are improving.
Any unvaccinated faculty, staff, or student known to have been exposed to COVID-19 (e.g., by a household member, roommate) should stay in their place of residence and follow instructions from the local public health authority. Close contact is defined as closer than 6 feet for more than 15 minutes.
Yes. The State of Oregon mandate does not provide an exemption for individuals who have previously been infected with COVID-19. Experts do not yet know how long you are protected from getting sick again after recovering from COVID-19 and recommend getting vaccinated regardless of whether you already had COVID-19.  
Per state mandate, unvaccinated individuals who do not meet exemption requirements (as well as any required testing requirements) will be unable to participate in clinical activities at NUNM. For non-clinical employees, NUNM will work with you one-on-one to determine if there are alternate work assignments, but we recognize that this mandate may necessitate a leave of absence for you.
Questions?
Email covid@nunm.edu and we will direct your question to the appropriate individual.