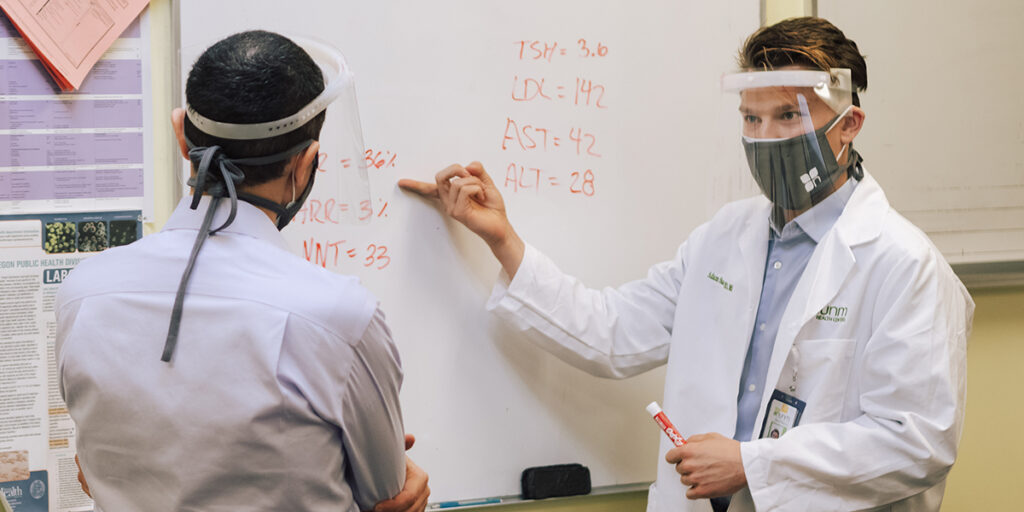 Updated May 18, 2022
DO NOT COME TO CAMPUS IF YOU ARE ILL, REGARDLESS OF THE REASON. If you are symptomatic and test negative for COVID-19, do not return to campus until your symptoms have resolved.
Facemask Requirements
Due to the high rates of transmission in Multnomah County and the increasing numbers within our own community, NUNM is reinstating its campus-wide facemask requirement effective Monday, May 23. It is strongly recommended that you begin wearing a facemask on campus immediately with either a surgical mask, N95, or KN95 mask (i.e., no cloth masks), which are available on the NUNM campus in several locations including Student Life, the business suite, Human Resources, and the NUNM Library.
The facemask requirement will stay in effect through Monday, June 20. The COVID Operations Team will update the community with any new information at that time.
Facemasks have been one of our most effective tools against COVID-19. As cases rise across the state, our priorities are to minimize the spread and protect our community.
COVID-19 Reporting Form
The university created a COVID-19 Reporting Form as a tool to monitor COVID-19 cases on campus. We ask all members of NUNM's community to complete the form to help keep track of and respond to COVID-19 cases on campus.
Please use the form to:
Notify the university you are symptomatic and need help or
Notify the university you have tested positive
The form will require you to log in with your NUNM email account.
Upon reporting, students will be contacted by NUNM Dean of Students Rachael Allen for further guidance.
COVID-19 Testing
Weekly COVID-19 testing is required for those who are unvaccinated and, in the case of clinical students, who have met and been approved through the vaccination exemption process.
Non-compliance with NUNM COVID testing policy will result in an interim suspension until the following week when testing is completed, and compliance is met. Online students and faculty (ND first-year online or Nutrition online) are exempt from vaccination/test requirements unless participating in any precepting or internship opportunities either on or off campus, or plan to use any on-campus resources (such as the library).
On-Site Testing: On-site testing will continue to take place Monday mornings and all eligible individuals should have received an email with their assigned testing time. There is no cost associated with testing.
Off-Site Testing: We will continue to accept off-site test results completed by providers and labs whose license includes testing for both antigen and PCR COVID tests. All off-site tests must be collected Sunday-Monday of each week with results due by 11:59 p.m. Monday.
For more information about exemptions, please read the Vaccine Exemption FAQ.
Student Health Insurance
Health insurance coverage is a necessity for many students to be able to access the health care they need and deserve.
While NUNM does not offer student health insurance, the Oregon Health Plan is available for students with established residency in the state, and who meet the criteria within the Federal Poverty Level assessment.
For more information, please visit the Student Services web page.
Clinical vs. Non-clinical Requirements
NUNM requires all students enrolled in a clinical program and all employees who engage in direct or indirect patient care to be fully vaccinated against COVID-19 with an acceptable vaccine or submit to weekly COVID-19 testing.
To remain in compliance with Oregon OSHA's Temporary Rule regarding COVID-19, all individuals who work, learn, or volunteer at NUNM Lair Hill Health Center must complete a COVID-19 attestation before presenting. Each day before arriving to the Lair Hill Health Center, please complete the Daily Attestation Form (NUNM login required). Responses will be monitored and non-compliance may result in clinical suspension. If you're unsure about your reply to any of the questions, please email covid@nunm.edu and a COVID operations team member will assist you.
Requirements for NUNM students and staff engaged in clinical activity are different from those in non-clinical settings.
NUNM will comply with the State of Oregon mandate, which requires vaccination or approved medical or religious exemption. Any exemptions granted will be required to comply with the weekly testing requirements.
A copy of your vaccination card or weekly negative test will be required to be on campus after October 18, 2021. Due to regulatory differences, non-clinical individuals do not need to submit a specific exemption form, they only need to agree to participate in weekly testing.
You are exempt from the vaccination/weekly testing requirement — unless you will be participating in any precepting or internship opportunities on or off campus, or plan to use any on-campus resources, such as the library. Any online students who will be participating in any clinical activities, or who will be on campus for any reason, are required to meet the same vaccination/weekly testing requirements as in-person students.
Deans will evaluate classes on a 1:1 basis to determine if they can take place online.
Our AV team is working closely with faculty to ensure we can record lectures. All 10 primary classrooms are now set up with optional lecture capture that can be automatically scheduled and uploaded to Moodle. We also have new podium technology in most classrooms to meet the diverse needs of faculty lectures and recordings. Our AV team is readily available to set up recording options for labs and tutorials.
Missed clinic shifts are not able to be made up virtually at this time for ND and CCM students. ND students may submit up to two modules per shift for credit. Faculty will work with students who have needs for additional absences on a 1:1 basis.
Questions?
Email covid@nunm.edu and we will direct your question to the appropriate individual.