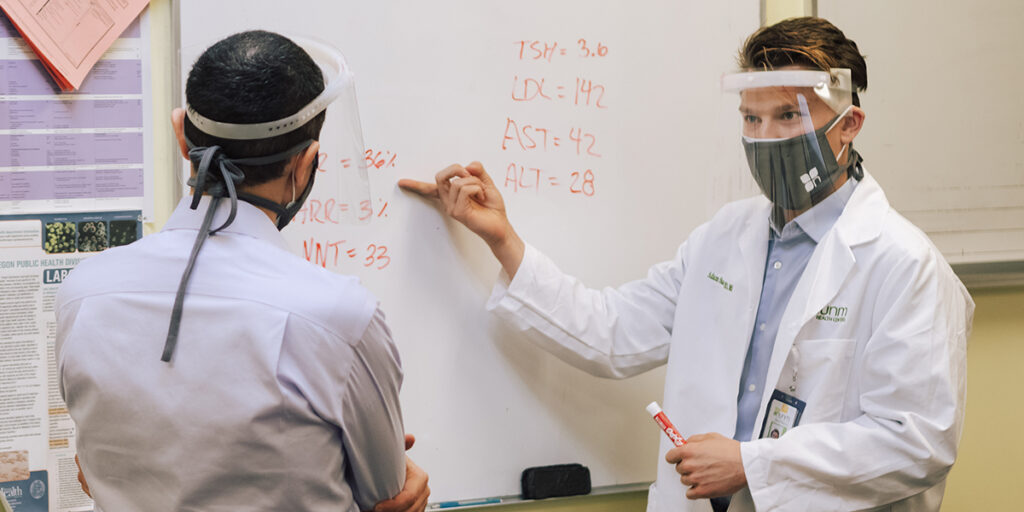 First 5 Weeks of Fall 2021 Term Moved Online

To minimize the risk of COVID-19 exposure, all lecture classes will be held virtually until October 18, 2021. Labs and clinical rotations, including kitchen classes, will occur in person with appropriate personal protective equipment (PPE).
ND tutorials will be assessed one-by-one by the dean and individual faculty. When appropriate, tutorials will also be moved online until October 18, 2021.
NUNM students are responsible for procuring their own personal protective equipment (PPE) and eye protection and bringing it with them to the clinic and patient-simulated academic activities.
Take the Vaccine Survey
Thank you to everyone who has completed the COVID-19 vaccination survey. If you have not yet completed the survey, please do so as soon as possible. Survey completion is necessary for us to provide accurate testing information.
Students and employees, who have not completed the survey below by October 1, 2021, cannot participate in academic, clinical, or employment duties beyond that date.
Documentation of vaccination or an exemption will be required to participate in clinical activities at NUNM on or after October 18, 2021. Any exemptions granted will be required to comply with the weekly testing requirements.
For more information about exemptions, please read the Vaccine Exemption FAQ.
COVID-19 Reporting Form
The university created a COVID-19 Reporting Form as a tool to monitor COVID-19 cases on campus. We ask all members of NUNM's community to complete the form to help keep track of and respond to COVID-19 cases on campus.
Please use the form to:
Notify the university you are symptomatic and need help or
Notify the university you have tested positive
The form will require you to log in with your NUNM email account.
Upon reporting, students will be contacted by NUNM Dean of Students Rachael Allen for further guidance.
In addition to reporting potential exposure(s), students should contact their primary care provider for quarantine and testing recommendations. Individuals should remain quarantined until their provider determines they are able to return to the NUNM campus according to Multnomah County Health Department guidelines.
Student Health Insurance
Health insurance coverage is a necessity for many students to be able to access the health care they need and deserve.
While NUNM does not offer student health insurance, the Oregon Health Plan is available for students with established residency in the state, and who meet the criteria within the Federal Poverty Level assessment.
For more information, please visit the Student Services web page.
Clinical vs. Non-clinical Requirements
NUNM requires all students enrolled in a clinical program and all employees who engage in direct or indirect patient care to be fully vaccinated against COVID-19 with an acceptable vaccine or submit to weekly COVID-19 testing.
Requirements for NUNM students and staff engaged in clinical activity are different from those in non-clinical settings.
NUNM will comply with the State of Oregon mandate which requires vaccination or approved medical or religious exemption. Any exemptions granted will be required to comply with the weekly testing requirements.
A copy of your vaccination card or weekly negative test will be required to be on campus after Oct. 18, 2021. Due to regulatory differences, non-clinical individuals do not need to submit a specific exemption form, they only need to agree to participate in weekly testing. Please complete the survey prior to Sept. 10, 2021.
You are exempt from the vaccination/weekly testing requirement — unless you will be participating in any precepting or internship opportunities on or off campus, or plan to use any on-campus resources, such as the library. Any online students who will be participating in any clinical activities, or who will be on campus for any reason, are required to meet the same vaccination/weekly testing requirements as in-person students.
Questions?
Email covid@nunm.edu and we will direct your question to the appropriate individual.