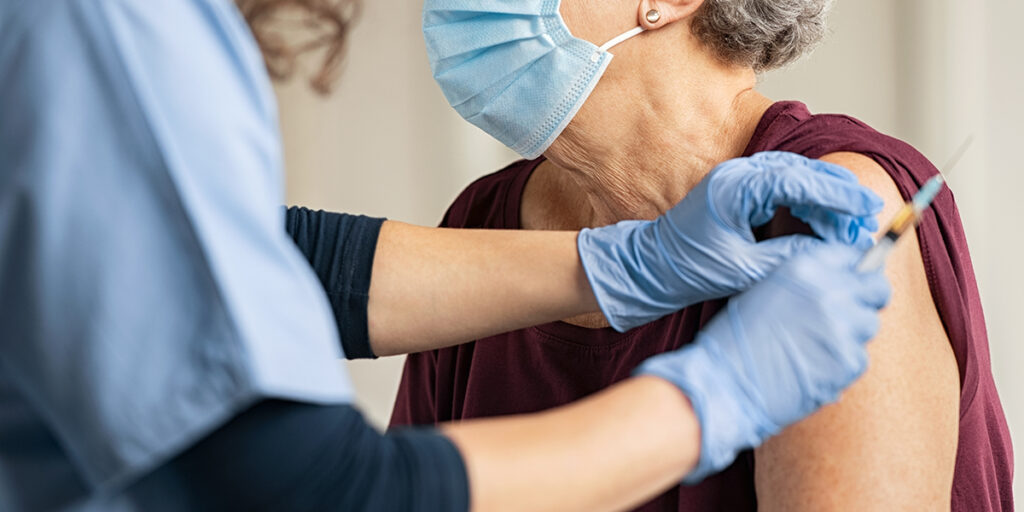 Updated May 5, 2022
Weekly Testing
Clinical employees and students who are either unvaccinated or who have declined to disclose vaccination status must participate in weekly COVID-19 testing, in accordance with Oregon's temporary rule which became permanent effective January 31, 2022.
Weekly testing is not required for non-clinical NUNM community members.
---
Take the Vaccination Survey
If your vaccination status has changed or you have not yet submitted your vaccination status, please complete the appropriate survey below:
NUNM COVID-19 Testing FAQ
NUNM's COVID Operations Team has determined a structure for weekly testing for:
Clinical individuals who have been granted a religious or medical exemption
Non-clinical individuals who have opted for weekly testing instead of vaccination
Please read the NUNM COVID-19 Testing FAQ below for more information.
All on-campus testing will be completed weekly on Mondays from 8 a.m. – Noon. Because all testing will occur Monday mornings, we do not need to start the week prior as initially planned. Your testing windows will be randomly assigned within a one-hour window. You will be sent your weekly testing time by Wednesday, October 13. If this time conflicts with a class or clinic rotation, please email
Iris Sobottke (isobottke@nunm.edu)
, and she will adjust your time. Outside of scheduled or assigned class time conflicts, we are unable to move individuals.
Please bring photo ID (either NUNM or driver's license).
All testing will take place in rooms 224 and 226 of the NUNM Academic Building.
Currently, there is a national and state shortage of testing supplies. We will begin on October 18 with rapid antigen tests. If we are unable to acquire rapid antigen tests in any given week, we will move to PCR testing. If we have to use PCR tests, we anticipate using nasal (and not nasal-pharyngeal) tests.
At this point, NUNM will absorb the cost of weekly testing, assuming we are able to continue to use the rapid antigen tests. If we move to PCR testing, we will begin billing individual's insurance.
All tests completed outside of NUNM must be completed on Sunday or Monday of each week. Test results must be sent to
covidtesting@nunm.edu
by Monday of each week at 11:59 p.m. We are unable to reimburse individuals for tests performed outside of NUNM.
Outside tests can be completed by any provider, lab, or pharmacy that is CLIA Certified. To submit the test, you must have a printed copy of the results sheet that can be uploaded and reviewed and verified by our medical team. NUNM will conduct spot check verifications, including reaching out to the CLIA certified lab/provider. Test results must include the test date, lab address and phone number, and patient DOB.
The state of Oregon will fine individuals $500 for each day of non-compliance. Any test not completed during the scheduled testing time or submitted by the Monday deadline will be eligible for testing the following week. Individuals will not be allowed on campus until they are in compliance with the weekly testing requirements. Students may be allowed to participate online if faculty are already recording or streaming the class. Students may not request special accommodation of their faculty to convert an in-person class to an online class. (Clinical requirements may not be made up virtually and must be made up in person or, if applicable, using previously approved modules for up to two (2) shifts for each missed assigned shift.)
Vaccination Requirements
NUNM requires all students enrolled in a clinical program and all employees who engage in direct or indirect patient care to be fully vaccinated against COVID-19 with an acceptable vaccine or submit to weekly COVID-19 testing in accordance with OAR 333-019-1010.  
Requirements for NUNM staff and students engaged in clinical activity are different from those in non-clinical activities. Please see details below.
Clinical REQUIREMENTS
All clinical students and employees must comply with the Oregon Healthcare Vaccine Mandate, which requires vaccination or approved medical or religious exemption. (Please see the Vaccination Exemption FAQ for more information.) Any individual who receives an approved exemption will be required to comply with the weekly testing requirements. 
non-clinical REQUIREMENTS
Weekly testing is not required for non-clinical students and employees.
Online Students AND faculty 
Online students and faculty are exempt from the vaccination and testing requirements — unless you will participate in precepting or internship opportunities (either on or off campus) or you plan to use on-campus resources such as the NUNM Library. 
Any online students who will participate in clinical activities or who will be on campus for any reason are required to meet the same vaccination or testing requirements as in-person students.   
Exemptions
Currently, there is no exemption for individuals who have previously been infected with COVID-19. Experts do not yet know how long a person is protected from getting sick again after recovering from COVID-19 and recommend getting vaccinated regardless of whether you already had COVID-19.   
Per state mandate, unvaccinated individuals who do not meet exemption and weekly testing requirements will be unable to participate in clinical activities at NUNM. 
For more information, please read the Vaccine Exemption FAQ.
Questions? 
Email covid@nunm.edu and we will direct your question to the appropriate individual.