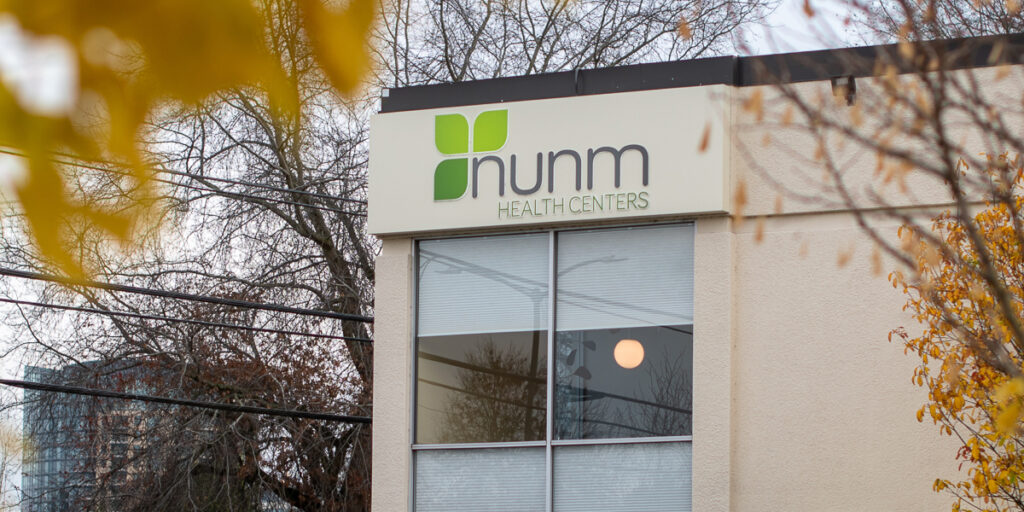 NUNM's campus and buildings are not open to visitors at this time (excluding the NUNM Lair Hill Health Center). Buildings are locked, and entry is by ID keycard access only for approved NUNM faculty, staff and students.
On-Campus Requirements
Complete the daily symptom screening questionnaire. 
Continue the practice of physical distancing of greater than 6 feet whenever possible. 
Practice increased hand hygiene and sanitation. 
Wear an NUNM ID at all times while on campus. Lanyards and ID holders are available at the security office. 
Wear a  face mask on campus in all indoor spaces, including hallways, kitchens, lounges, classrooms, and clinic, and outdoor spaces where physical distancing is not possible.  View this video demonstration on proper mask wearing. (NUNM employees and students are encouraged to report noncompliance by filing an incident report). 
Use additional personal protective equipment (PPE) while on campus when required for specific coursework and any patient-facing care in the Health Center. 
If you are experiencing  COVID-19 symptoms (CDC guidance) and/or have known exposure, leave campus promptly, seek testing, and report using the  COVID-19 reporting tool  for all employees and students. 
Additional Precautions to Discourage the Spread of COVID-19 on Campus
Follow directional signage and maintain 6-foot distancing as much as possible.  
No more than one person may enter an elevator at a time, so please use the stairs whenever possible. If you are using the elevator, wear your mask or face covering and avoid touching the elevator buttons with your exposed hand/fingers, if possible.
Wash your hands frequently or use hand sanitizer with at least 60% alcohol upon departing the elevator. 
Disinfection and hygiene to reduce transmission: Everyone will play a role in cleaning high-touch areas such as desks, chairs, microwaves, water dispenser knobs, etc. Standardized cleaning solution will be purchased and distributed throughout campus for individuals to sanitize personal high-touch surfaces.  View this video on how to properly clean and sanitize surfaces.
Each department has assessed open work environments and instituted measures to physically separate and increase distances between employees and other coworkers, students, and other students and/or faculty. 
Please be mindful that physical distancing is maintained at all times. 
Virtual Campus Tour
Until our campus reopens, get to know NUNM better by taking a virtual tour :
Interested in learning about NUNM's online programs?
Attend online Live Program Q&As with our Office of Admissions
Email or text the Office of Admissions at 503.917.3582
Meet virtually with a current NUNM student or faculty member: Call 503.552.1660 or 877.669.8737 to schedule a meeting.
Questions?
Please email covid@nunm.edu and we will direct your question to the appropriate individual.