Join Us in Building Mitchell & Radelet Hall
"People are each others' medicine in the ideal world."  ~ Bill Mitchell, ND
To honor the memory of Bill Mitchell, ND, ('76), NUNM has begun the transformation of the Great Hall of the academic building into a place of inspiration for all students and future practitioners of natural medicine.
Make a donation or pledge of support today. 
Join more than 50 alumni members of the Mitchell Hall Society who have donated and pledged over $50,000 toward our goal of $250,000 for Mitchell Hall and the NUNM Building Fund.
Bill Mitchell was a proud alumnus of NUNM, where he taught botanical medicine before joining Joe Pizzorno '75 and Les Griffith '75 in 1978 to found John Bastyr College of Naturopathic Medicine, now Bastyr University. He continued to lecture regularly at NUNM, where he was esteemed by students and faculty for his encyclopedic knowledge of medicinal plants, his clinical acumen, and his unique teaching style. Indeed, Bill was known throughout the naturopathic profession as a teacher, philosopher and spiritual guide. He approached every aspect of his life with passion and humility and he saw the "big picture" by understanding how naturopathic principles are applicable to everything. NUNM celebrates Bill Mitchell as one of our own.
A unique feature of Mitchell Hall is the group of panels on the wall inscribed with "words of wisdom" from professional elders and from you, donors to the Mitchell Hall project. Share your own "Words of Wisdom" with generations of students and everyone who visits the hall. We'd like to quote you on our walls!
Radelet Hall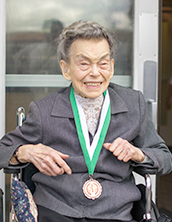 "We all, in our own way, are helping to change the world." ~ Betty Radelet, ND
Radelet Hall, formerly the NUNM Annex, was officially dedicated in June 2014 to honor Betty Radelet, DC, ND, ('68), the first woman to graduate from NUNM and a true living legend. Radelet Hall serves the NUNM community as a large lecture hall, a site for conferences, and venue for social events.
Make a donation or pledge for Radelet Hall today. 
"Dr. Betty" has been an essential bridge between the elders of the naturopathic profession and the generations of physicians and students who have followed.  All of our students owe a debt of gratitude to the pioneering spirit that she exemplifies—a hardiness of spirit tempered with compassion and love of service. Dr. Betty came to her calling later in life. Widowed at age 41 with seven children, she earned her chiropractic degree from Western States Chiropractic College. Soon after, a combination of events led her to NUNM, where her love and affinity for practicing naturopathic medicine deepened—benefiting thousands who have been touched by her wisdom, medical interventions and love through her many years of practice. Dr. Radelet was honored as a "Living Legend" by NUNM and the Oregon Association of Naturopathic Physicians in 2010, and she received the NUNM Presidential Medal of Service in 2014.
For more information, please contact: MiKayla Ryan, Director of Development.