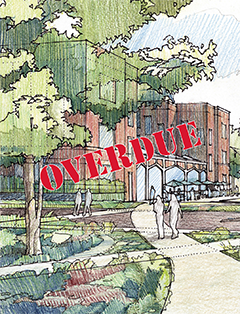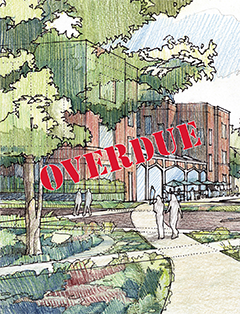 Become part of the "Overdue" campaign. We invite you to donate to the NUNM Library by pledging your support over a five-year period at one of these affordable levels.
Browser
C'mon in, visit the stacks, and pull a few titles of interest. Dip your toe in philanthropic waters for just $10 a month. That's $120 a year for a total gift of $600. Your gift will be acknowledged in publications and on the library's donor wall.
Bookworm
You love to read. Get comfortable, but take your nose out of that book long enough to pledge a $250 annual gift, less than $21 a month. You'll donate $1,250 over five years. In addition to the recognitions above, a brick memorializing your gift will be placed in NUNM's Green Brick Road.
Researcher
Gotta have those journals and electronic resources. Dig in and get the latest, and remember the NUNM Library with your pledge. Your gift of less than $42 a month ($500 a year) totals $2,500 toward the new building. Your name will appear on campus (wall and brick), and you'll have free admission to an NUNM weekend CE conference or online access to a set of conference recordings.
Patron
Become a true patron of the NUNM Library—in every meaning of the word. Make it a cause you support completely, at $1,000 each year (under $84 monthly). Your gift of $5,000 will help lead the way. We'll thank you with two free weekends of CE or the equivalent from our online library, plus all the other gratitudes.
Donor
Can't make a five-year commitment? Want to give at a different level? Your donation of any amount will make a difference! See your name in our annual report and Alumni News.
Questions? Please contact MiKayla Ryan, Director of Development.
---
Donation Levels
Please select from the following donation levels. You have the option of making a one-time contribution or spreading your contribution over 60 months.
Library Campaign One-Time Donation
$600.00 – $5,000.00
Library Campaign Five-Year Subscription
From: $10.00 / month
Your donation will be processed monthly over 60 months.
Choose Your Donation
Donations of $25 or more welcomed.