National University of Natural Medicine (NUNM) is the oldest accredited naturopathic medical school in North America, the roots from which other accredited naturopathic medical schools have sprung. Our NUNM Health Centers and network of community clinics attract more than 30,000 patient visits annually, and support a tightly knit, collaborative and inspiring learning environment.
NUNM cultivates teaching, research and patient care, providing an exceptional learning environment for medical students—an ideal terrain for industry partners that want to become aligned with the professions we serve. NUNM Partners enjoy access to newly minted doctors and medical students who are launching medical practices in the Pacific Northwest and throughout the United States and Canada. Affiliation with the country's premier natural medicine university and access to alumni and students are part of the ROI of a partnership with NUNM. Many thanks to NUNM's current Partners!
NUNM at a Glance
A nonprofit university of natural medicine, NUNM offers medical education programming in naturopathic and classical Chinese medicine, and in related health sciences disciplines. This includes 11 exceptional accredited degree programs—eight postgraduate degrees and three undergraduate degrees.
NUNM's 20-year master plan, approved by the city of Portland in 2011, projects that the university's southwest Portland campus footprint will triple in size from 2016 to 2019 and will include a new state-of-the-art library.
NUNM has more than 630 students and 2,800 alumni. Enrollment is expected to continue to grow.
NUNM Health Centers, Lair Hill and Beaverton locations, are Tier 4 Patient-Centered Primary Care Homes (PCPCH)—a top-level certification from the state of Oregon.
NUNM's College of Classical Chinese Medicine, established in 1995, provides the most comprehensive classical Chinese medicine training in the U.S.
There are more naturopathic physicians (NDs) per capita in Oregon than anywhere else in the United States. The scope of practice for NDs in Oregon is the most comprehensive in the U.S.
NUNM's Helfgott Research Institute is home to world-renowned research investigators who champion critical studies in natural medicine. Students and faculty collaborate on research and
interdisciplinary studies funded by the National Institutes of Health, winning scientific awards and getting published in peer-reviewed journals.
Partner Program Benefits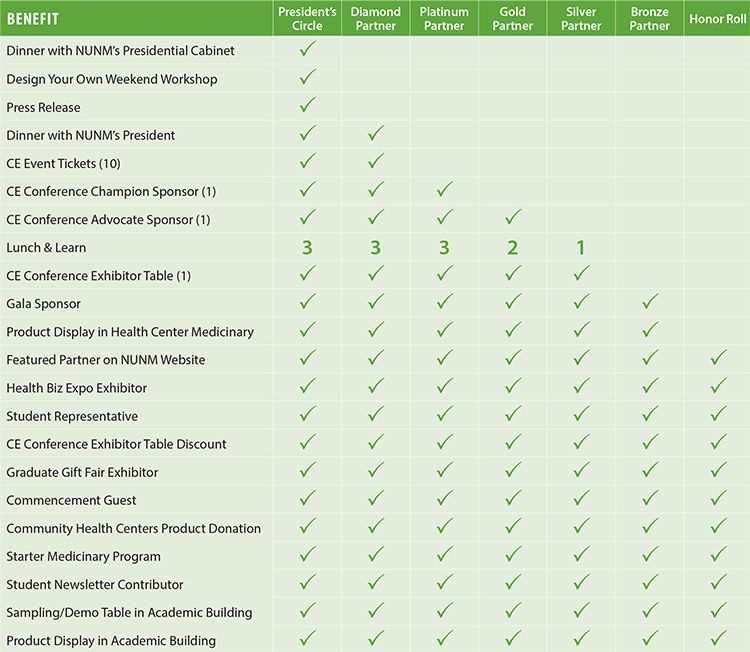 Dinner with NUNM's Presidential Cabinet
Partner representatives are invited to a private dinner with members of the cabinet.
Design Your Own Weekend Workshop
Partners are invited to facilitate an informative weekend workshop open to NUNM students, faculty and alumni. This is an organized, advertised event with timing and logistics coordinated by NUNM.
Corporate Contributions Press Release
NUNM will circulate a formal press release and LinkedIn posting about our Partner's generous donation, profiling the company and its commitment to NUNM's mission and to the field of natural medicine.
Dinner with NUNM's President
Partner representatives are invited to a private dinner with the president.
CE Event Tickets (10)
Partner companies are awarded ten complimentary tickets to community education and continuing medical education events (valid during the year of the partnership). Tickets may be dispersed to partner employees or affiliates of choice to receive free continuing medical education.
CE Conference Sponsor/Exhibitor Table
NUNM presents 10-12 conferences each year to both healthcare practitioners and students. Each conference focuses on a modality or subject of medicine, and upwards of 50-100 practitioners and 50-75 students routinely attend, along with many participants on live webinar. Partner companies receive a 25% discount on any conference table at the Honor Roll level and above, a free table at the Silver level and above, an Advocate Sponsorship with associated benefits at the Gold level and above, and a Champion Sponsorship with associated benefits at the Platinum level and above.
Lunch & Learn
Partners may present an educational talk and share product information with students and alumni during a catered lunch in an organized, advertised event for one hour. Partners receive one Lunch & Learn at the Silver level, two at the Gold level, and three at the Platinum level.
Gala Sponsor
The annual Celebrating Natural Medicine Gala takes place on the Thursday prior to commencement and is NUNM's community and networking event of the year. The Gala is centered on NUNM's
"A University for All Seasons" campaign in support of campus and program development. The Gala highlights the unique needs for the future of our university and the broader natural medicine landscape. Partners receive a complimentary table of eight to seat the guests of their choice, and will be acknowledged as part of the program.
Product Display in NUNM's Health Center Medicinary
Partners are a featured medicinary sponsor and will be given a display shelf in the NUNM Health Center Medicinary. The Partner's products and promotional materials will be on display for thousands of patients, students and practitioners to view for one month per year.
Featured Partner on NUNM Website
Partners have an active link on the NUNM website.
Health Biz Expo Exhibitor
Partners receive a complimentary table at this day-long event to promote products, distribute samples, and donate items to a raffle for students and alumni. Continuing medical education units are offered to event attendees.
Student Representative
Partners may hire an NUNM student representative in a private contract position between the company and student. Student representatives may conduct sampling, distribute product information, coordinate seminars, set up product displays, and interact with students, faculty and staff. These student leaders help companies gain additional exposure through peer-to-peer education.
Product Display in Academic Building
Partners' products or promotional materials may be featured on a prominent display shelf on the first floor of the Academic Building for one month per year, viewed daily by hundreds of students and faculty.
Graduate Gift Fair
Partners may participate in the annual graduate gift fair the week prior to graduation, during which free samples from partners are distributed to soon-to-be graduates.
Commencement Guest
Partners are invited to NUNM's commencement each June of the partnership.
Community Health Centers Product Donation
NUNM boasts more than a dozen community health centers with faculty and students working rotating clinical shifts. Routine donations of products allow students and faculty to see the efficacy of remedies. Companies are acknowledged for their donation of product, which may move partners to higher partnership levels based on the donated amount.
Starter Medicinary Program
Partners may provide a set amount of products on consignment for each new graduate who opts into this program. The graduate pays for initial inventory interest-free within one year, and works directly with the partner company on an installment plan. This program facilitates product knowledge and helps to shape a relationship with recent graduates as they build their practices.
Student Newsletter Article Contributor
Partners are featured sponsors in the twice-monthly student newsletter, the "Partners Connection." Partners may submit 150-word articles, which typically focus on a product, promotion, research, sourcing or professional development. Links to longer articles are welcomed.
Sampling/Demo Table in Academic Building
Partners may reserve a sampling table in NUNM's Academic Building for up to three hours each month. Sampling tables are typically conducted by the student representative in order to maximize peer-to-peer education, which is very effective
Multi-Year Projects and Naming Opportunities
Sponsor One of Our Five Top Priorities

Student Scholarships
Student Residency Fund
Faculty Research Awards
Endowed Academic Professorships
Academic Building Restoration

Naming Opportunities in the Heart of the Learning Experience

New Academic Building: $15 million
Library & Student Life Center: $4 million
Center for Natural Brain Health Research: $3.5 million
Center for Integrative Primary Care: $1.5 million
Center for Natural Diabetes Care Research: $1 million
Campus Student Welcome Center: $200,000
Scholarship in Natural Medicine Research: $25,000

Naming Opportunities for Clinic Services, Student Life, and Campus Services

Health Center at Lair Hill: $1.5 million
Health Center Medicinary & Patient Lobby Restoration: $125,000
Whole Life Market: $100,000
Women's Health Wing: $100,000
IV Therapy Treatment Room: $45,000
Conference Rooms: $20,000 each
Treatment Rooms: $5,000 each

Sponsor an NUNM Institute

Traditional Roots Institute

Hands-on Medicine Evenings (HOME) Series
Forest Park Herb Walks

Women in Balance Institute

Cooking Classes for Women's Health
Preconception to Postpartum Series

Food as Medicine Institute

Food as Medicine Everyday (FAME) Series
FAME at Coffee Creek Correctional Facility

Campus Beautification

Campus Permaculture Food Forest: $175,000
Outdoor Patios: $100,000
Campus Murals Project: $45,000
Paint Interior of Academic Building: $30,000
Legacy Brick in Min Zidell Garden: $100
We'd also love to partner with you to create your own special project with high visibility, such as Charlee's Teaching Kitchen sponsored by Bob's Red Mill, the Min Zidell Healing Garden, Minh Chau Garden and Betty Radelet Hall! Let's get started!