National University of Natural Medicine
NUNM offers a tightly knit, inspiring learning environment and a vital, groundbreaking research community that encompasses our classrooms, health centers and beyond. Our dynamic campus offers all our students the opportunity to become agents of change in the world of health. Our students are on the frontier of new ways of looking at nutrition, mental health and more. At NUNM, we are all about education, research and service―it's what our students want and patients need. Our students are passionate, high achievers who are taking steps to make the world a better place using natural medicine.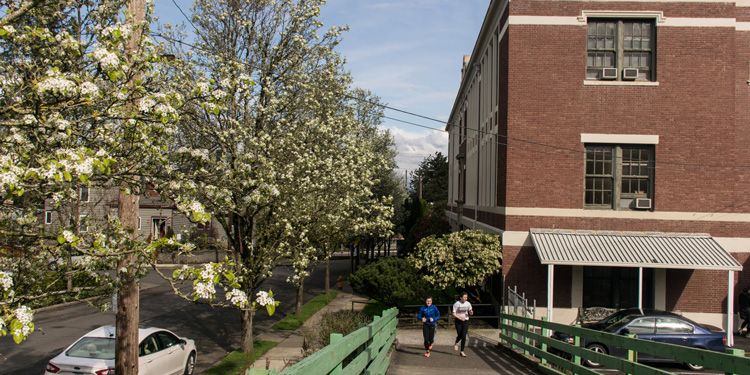 Our exceptional doctoral and graduate programs in naturopathic medicine, classical Chinese medicine, integrative medicine research, integrative mental health, global health, nutrition, Ayurveda, and integrative health sciences blend ancient healing wisdom with modern, research-based science. Our new undergraduate programs are creating new avenues for continuing education students to prepare for careers in the health sciences, nutrition, massage therapy or for graduate study. The success of our programs is evident in the marketplace. Our graduates are in high demand―vast numbers of U.S. healthcare consumers are seeking preventive, non-invasive and high-quality natural health care.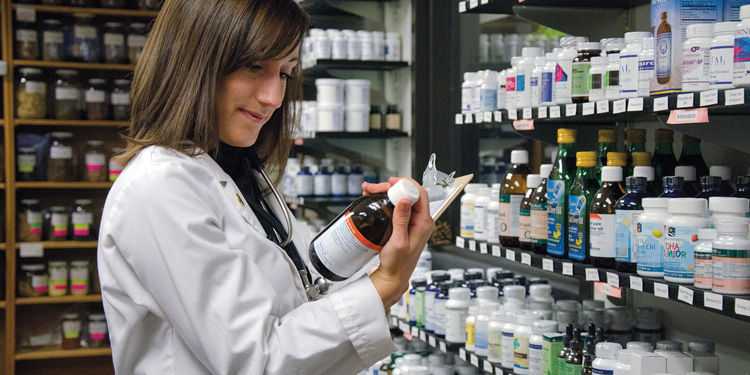 Our health centers are central to all coursework. NUNM's Lair Hill and Beaverton Health Centers offer patients a full spectrum of naturopathic and Chinese medicine services, while allowing the university's students, bilingual staff and licensed medical practitioners to see patients in fully appointed medical facilities. Both NUNM Health Centers are certified by the Oregon Health Authority as Tier 4 Patient Centered Primary Care Homes, which allow our medical students to serve patients in a team-based model of health care. In addition, NUNM is affiliated with a dozen Portland metro community clinics, providing our students access to a wide diversity of patient populations and health conditions.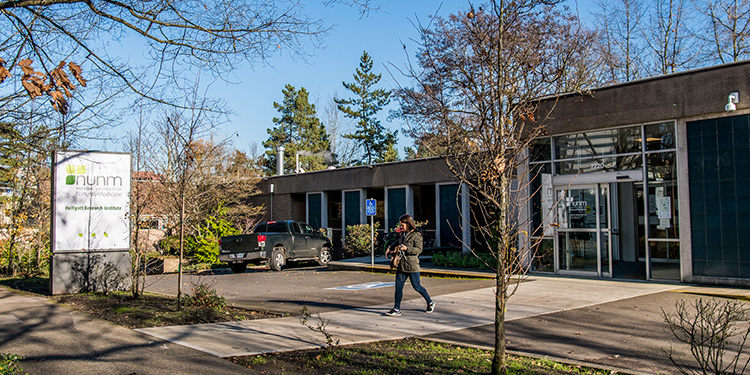 The reputation of NUNM is strong; Our naturopathic program is the parent of all others in North America, and our world-renowned classical Chinese medicine program and accomplished faculty are a source of great pride. NUNM's Helfgott Research Institute, esteemed for its prestigious National Institutes of Health grants and track record of commercial research grants, is a national leader in natural medicine research. We continue to build our reputation as an educational leader in community education. Our institutes, Food as Medicine, Traditional Roots, Women in Balance and Age Wise, offer workshops, seminars, presentations and other educational events for medical professionals and the general public, bringing natural medicine directly to the community.
Our Mission
Educating and training physicians, practitioners and pre-professionals in the art, science and research of natural medicine.
Our Values
Respect, Integrity, Creativity, Innovation, Environmental Stewardship, Commitment and Excellence. NUNM is the known leader in natural medicine education, research and patient care
Facts & Figures
Student enrollment 2017-2018: 630
Staff and faculty 2017-2018: 440
Alumni: over 3,000
Campus: South Portland, 5.4-acres, six facilities; in addition, NUNM's Helfgott Research Institute is located within a short walk of campus.
Health Centers: Lair Hill; Beaverton; a dozen community clinics
NUNM Today: Challenges and Opportunities
In the past decade, NUNM has grown in size and complexity, and has introduced a number of new programs that blend the values and insights of natural medicine. Our current strategic plan, Framework for Action III (2017–2022), explores the environment in which our graduates will practice and the changes that are taking place in the nature and delivery of health care, along with our role in that changing context. During this five-year period, we will need a new president who can help us accomplish our aspirations for NUNM.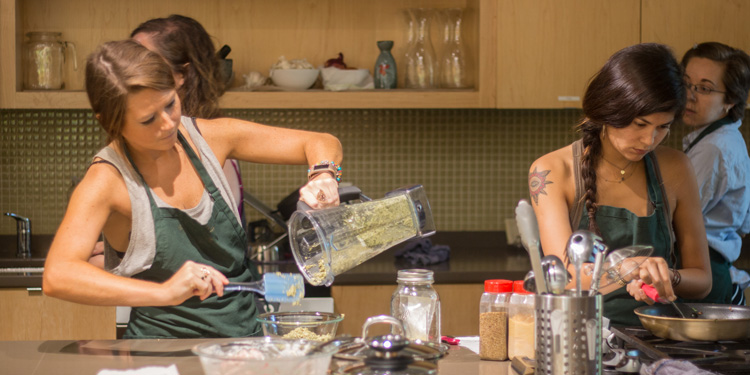 To quote from our strategic plan, "during this period we will continue to strengthen our reputation as the nation's vanguard institution in the natural medicine higher education sector, contributing to a societal transformation through continuous growth and sharing new knowledge and intellectual property about natural medicine, enhancing access to care through our health centers and partner clinics, and producing graduates in our core and related disciplines who ae spreading all over North America and beyond to deliver natural medicine services and leadership." (Framework for Action III, p. 2)
Core Themes
The image below provides an overview of the core themes for our strategic plan (Framework for Action III, 2017-2022) and supporting objectives. At NUNM, our students are at the core of everything we do. We have built advanced medical education programs in natural medicine, classical Chinese medicine, and related health sciences disciplines, aiding in the growth of natural and integrative medicine in North America. Our graduates are spreading across the globe to deliver natural medicine services and leadership, and NUNM will continue to compel the health industry to focus on prevention and a patient-centered system.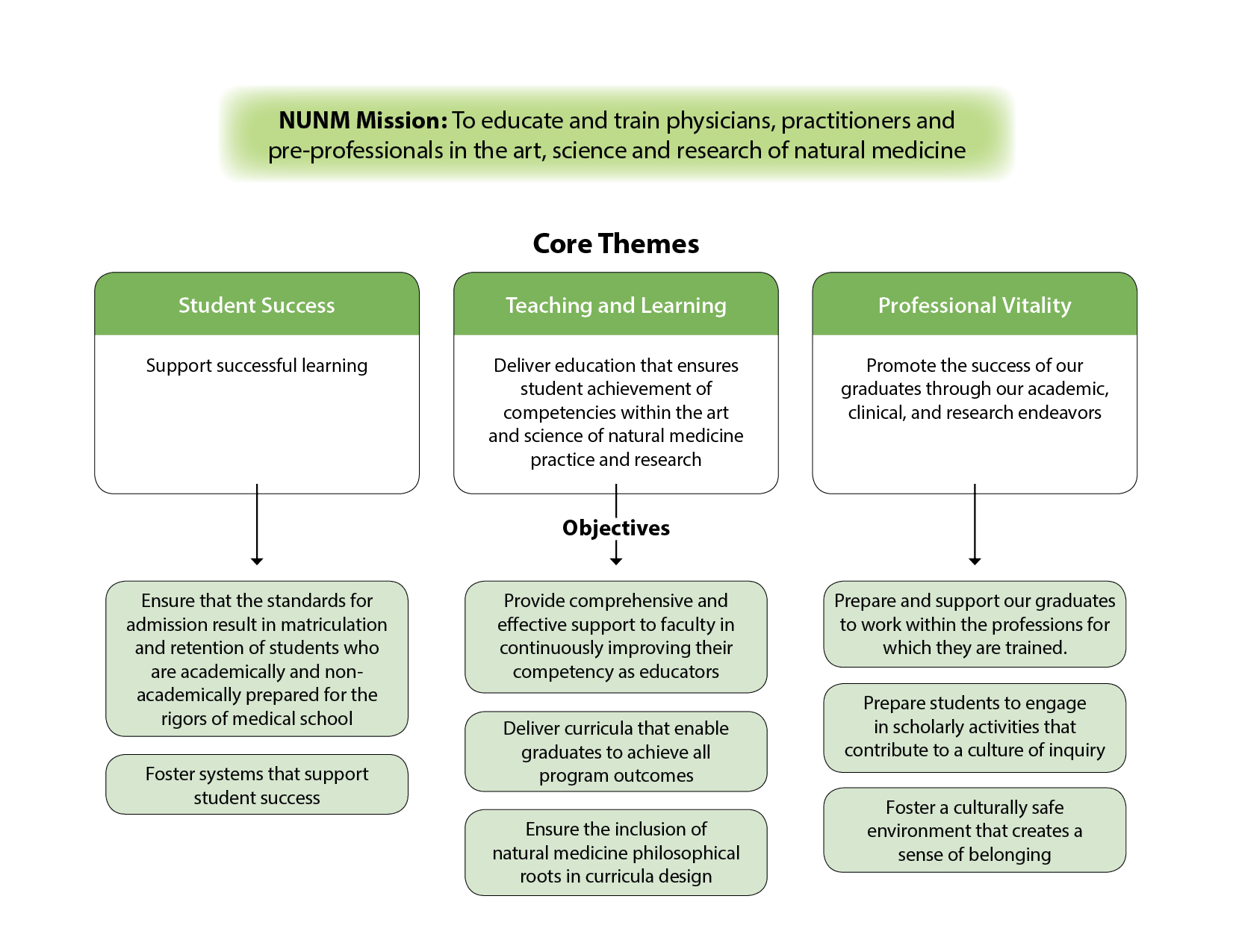 NUNM is accredited by the Northwest Commission on Colleges and Universities (NWCCU). Our naturopathic medical program is accredited by the Council on Naturopathic Medical Education (CNME). Our classical Chinese medicine program is accredited by the Accreditation Commission for Acupuncture and Oriental Medicine (ACAOM).