Friday, October 12 | 4 p.m. to 6 p.m.
Room TBD (depending on participation level)
Come join us for an evening of self-defense training. The training is tailored for any person, whether you are a novice looking to become familiar with some good techniques or a seasoned professional looking to practice your skills. Students only. More training opportunities may become available depending on interest.
Hosted by Chris Greene of Invictus Defense Academy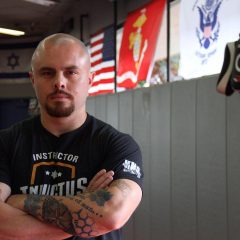 Chris has been a certified Krav Maga global instructor since July 2012 and has risen to the rank of Expert 1 awarded by Master Eyal Yanilov, and is the owner and chief instructor of Invictus Defense Academy, a KMG USA Affiliate. Chris serves on the Krav Maga Global USA National Team and was appointed as the lead law enforcement Krav Maga instructor for the United States. Chris specializes in combat fighting and law enforcement Krav Maga, and brings his 13 years of law enforcement experience to the training floor.
Can't make this training? Lynnae Berg of WomenStrength will be hosting a personal safety community hour on Wednesday, Oct. 17 from noon – 1 p.m. Click here for more details.