Welcome new students! NUNM's orientation will help you get acquainted with life on your new campus. You will have a fun filled day, meet your classmates, explore campus and get advised with the material below. We've written it for you here, as well, so you can easily access all of this important information.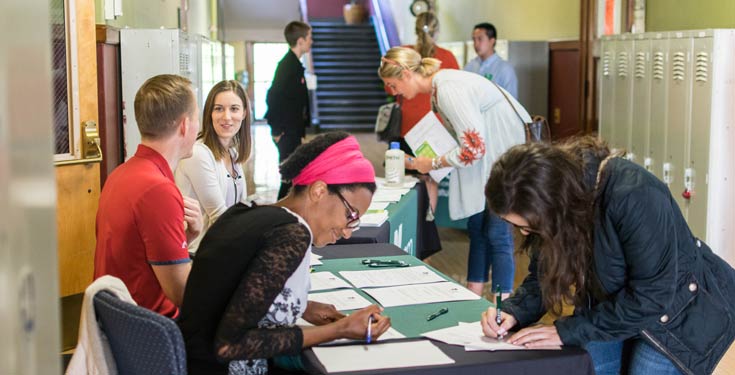 Dates for 2019
New Student Orientation: Sept. 10-11, 2019
Academic Orientation: Sept. 12, 2019
White Coat Ceremony: Sept. 13, 2019
Start of Fall Quarter: Sept. 16, 2019
Peer Mentor Program
All incoming students are eligible to sign up for a peer mentor (or mentors) to help them start their NUNM journey. Information about the program will be available at New Student Orientation. Reach out to the Office of Student Life (studentlife@nunm.edu) and/or the Center for Academic Success (academicsuccess@nunm.edu) with any questions.
Faculty Advisor
All incoming students are assigned a college advisor, a full-time faculty member, who will work with you during your time at NUNM. You will receive your advisor letter at orientation.
Tri-Met Bus Passes
NUNM participates in TriMet's University Universal Pass Program. The TriMet pass is a sticker affixed to the student ID and must be presented upon boarding TriMet buses, trains or MAX. The pass is not transferable. Students must sign an acknowledgement of TriMet's pass rules and a fee acknowledgement statement prior to receiving their TriMet Pass. Once a pass has been issued, Trimet passes cannot be returned for a refund.
Passes may be purchased at the beginning of fall, winter and spring quarter, and expire at the end of that quarter. Bus passes can be purchased from the Business Office within the first two weeks of each term. After that time no passes will be available for pick up.
Summer term is not included in the TriMet University Universal Pass Program. Therefore, students may purchase a bus pass at a higher, yet still discounted, rate for the term. Summer TriMet Passes must be ordered from facilities four weeks prior to the beginning of summer term in order to receive them by the beginning of the summer term.
If a TriMet pass is lost, replacement bus passes may be purchased through the Business Office. Students who request a replacement bus pass as a result of losing their ID card will be charged a prorated cost for the remaining weeks of the term. This only applies if there are remaining passes after term distribution. A student with a lost ID card will be charged a replacement fee; in addition, there is a fee to replace a lost TriMet pass. The TriMet fee may be waived, however, if the student chooses not to replace it. For information regarding fees, please consult the university catalog.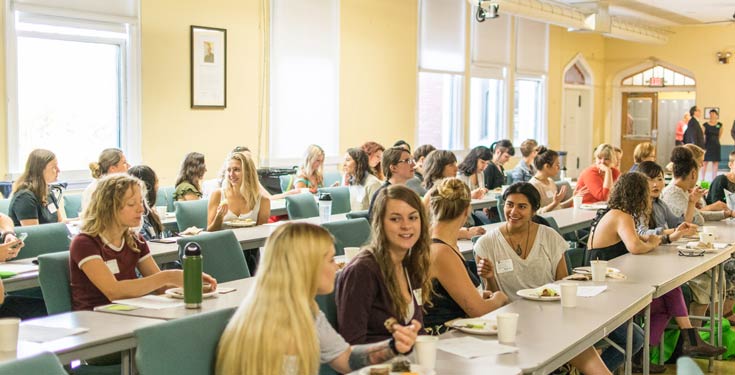 Bike Racks
Indoor bike rack spaces cost $25 per term. Registration and keys will be available during the first week of classes. Outside bike racks are free and only require a "campus code" which will be handed out at orientation.
Parking
New students will be given an opportunity to sign-up for the parking lottery during New Student Orientation. Spaces are limited. The cost is $100 per term. Permits will be awarded at the end of the first week of classes in the fall term. Parking Permits are not required during the summer months.
Lockers
NUNM provides lockers for students who are interested. These lockers require your own lock. Some lockers are larger and require two people sharing. You will receive an email the first week of classes regarding reserving a locker; please know they are available on a first-come, first-serve basis.
Change of Address/Phone/Email
Please make sure we have your current information, including temporary summer information and any changes to your e-mail.
Health Insurance
NUNM does not offer a health insurance plan, nor does the school ask for proof of insurance. NUNM however, has resources for student's seeking to purchase their own health insurance.
Tuberculosis Testing
NUNM policy, Oregon State law and the guidelines of OSHA and the CDC require that all NUNM students participate in tuberculosis surveillance. Incoming students, transfer students, and students returning after leave of absence of more than one year are required to have a QuantiFERON Gold in-tube TB blood test.
Disability Accommodations
Students who anticipate needing academic accommodations due to a disability please contact Morgan Chicarelli, Director of Academic Success & Access, for information regarding this process. Notification of academic accommodations can take up to four weeks to process. New students should begin the process as soon as possible.