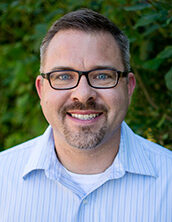 Andrew Erlandsen, ND
As Chair of the MScN program, Dr. Erlandsen's passion for medical research and nutrition has landed him in an ideal position, one where he can teach others the importance of quality medical research while being hands-on in the kitchen, showing the value of whole food nutrition and cooking. In addition to his teaching role at NUNM, Dr. Erlandsen is one of NUNM's Ending Childhood Obesity (ECO) Project physicians. The ECO Project is a series of free, community-based nutrition education and hands-on cooking classes.
Dr. Andrew Erlandsen's enjoyment of the culinary arts and nutrition led him to pursue a career in preventive medicine. He is a firm believer in Hippocrates' injunction, "Let food be thy medicine." Dr. Erlandsen also maintains a private clinical practice in Beaverton, Oregon.
Title

Assistant Professor, Chair Master of Science in Nutrition Program

Focus

Nutrition, Medical Research

Education

National College of Naturopathic Medicine, ND, 2011 University of Maine, BS Food Science & Nutrition

Office Phone

503.552.1794

Email

Courses

RES520 Clinical Research Design
RES625 Nutrition Research and Skills
RES700/CCM414 Introduction to Nutrition
RES626 Therapeutic Diets: Research and Cooking