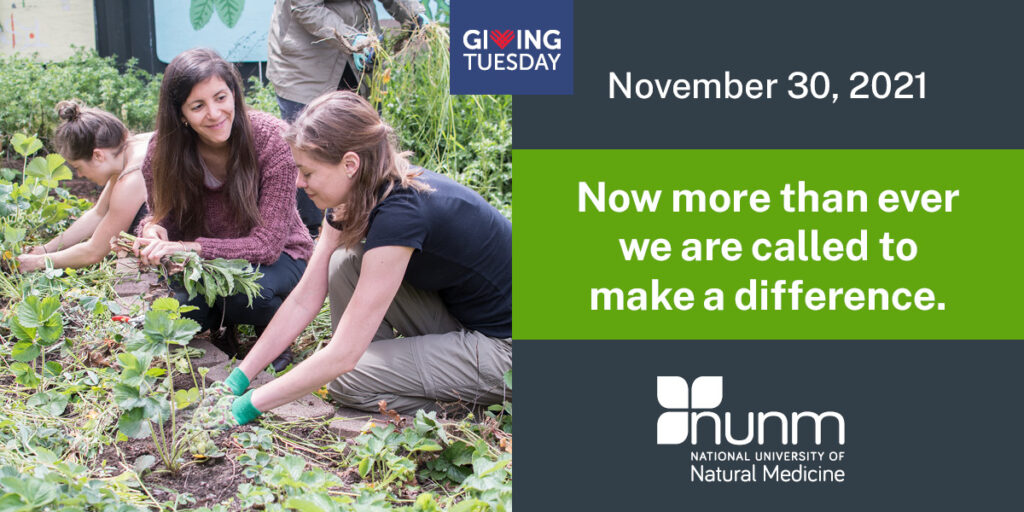 On November 30, 2021, the greater NUNM community will come together to help support the next generation of healers who have dedicated their selves and careers to healing the world through natural medicine.
Once again, NUNM will participate in Giving Tuesday, a global day of unity and generosity, and we need your help!
Many students are struggling to remain resilient with their studies – some are even pausing or dropping out of their current educational journey because of the financial, caregiving, and mental health burdens they're carrying and the unprecedented challenges they have faced during the COVID-19 era.
Please join us in supporting the next generation of natural medicine professionals by supporting student scholarships.
Fund for Excellence
For more than 65 years, National University of Natural Medicine (NUNM) has paved the way in natural medicine education and evidence-based research.
We've grown from five students and a single naturopathic program to hundreds of students, thousands of alumni, and several degree programs.
Our graduates are changing the world through naturopathy, classical Chinese medicine, nutrition, research, and more. In addition, our physicians, residents, and medical students guide countless patients to a more vibrant and healthful life.
These milestones are only possible through the support of our impassioned community. Thank you!
As we embark on the next 65 years, your gift to the Fund for Excellence will support critical priorities and fund initiatives for the future of natural medicine.