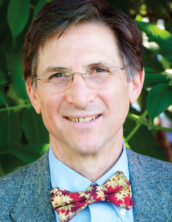 Steven Sandberg-Lewis, DHANP
College of Naturopathic Medicine
Dr. Steven Sandberg-Lewis has been a practicing naturopathic physician for over 40 years, previously on Orcas Island in Washington state and now exclusively at the NUNM Health Centers. His areas of specialty include:
● Gastro-intestinal conditions
● Chronic sinusitis and infections
● Spinal manipulation
● Soft tissue techniques – including structural integration
Dr. Sandberg-Lewis receives referrals of patients with digestive diseases who desire naturopathic treatment options; and often these are conditions that have defied diagnosis by other physicians. He understands the diseases of the gastrointestinal tract, but also can assess function and often find successful treatments to regain normal function of the digestive system.
He also focuses on the influence of stress on the body's physiology. Using soft tissue techniques such as structural integration, he effectively addresses injuries, post-surgical problems, and chronic pain by increasing blood flow and facilitating flexibility to affected areas. Visceral manipulation of the abdomen allows him to solve structural digestive problems often unaddressed by other healthcare providers. His expertise in physical medicine also includes releasing spinal restrictions and malpositions using naturopathic manipulative therapy.
In addition to supervising clinical rotations at the NUNM Health Centers, as a full-time faculty member, Dr. Sandberg-Lewis teaches several academic courses such as pathology, gastroenterology and psychophysiology at NUNM. He is also an investigator at NUNM's Helfgott Research Institute.
Dr. Sandberg-Lewis lives in Portland with his wife, Kayle and his son, Ezra. His CD, "Talking 'Bout Degeneration," a musical compilation of classics from the 60s and 70s with original lyrics about pathological conditions, is available through the NUNM Press. All proceeds go toward funding academic scholarships. His interests include mandolin, guitar and voice, as well as writing and lecturing with Kayle.
Title

Professor

Focus

Pathology, Gastroenterology and Psychophysiology

Education

ND, National College of Natural Medicine, 1978

Office Phone

503.552.1797

Email

Courses

CLE709 Clinic Secondary Rotation
CLE811 Clinic Primary Rotation
CLS512/532/542 Pathology I, III, IV
NOS732 Gastroenterology
NOS735E Gastroenterology Lab
CLS 718 X-Ray Practicum