Questions? 503.552.1660 / Toll-free 877.669.8737 or admissions@nunm.edu
Global Health at NUNM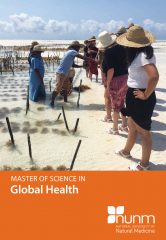 The Master of Science in Global Health (MScGH) degree program is designed for students who desire to understand the complexity of global health challenges and contribute to solutions in a meaningful way.
Our program prepares professionals to combine a public health framework, systems approach, ethnomedical philosophy and cultural humility to improve the health and well-being of diverse populations worldwide through practice, research and policy. The MScGH program closely aligns with our NUNM core programs of naturopathic and Chinese medicine, which have global origins.
Program Outcomes
The MScGH program offers a whole-systems approach to global health. Students are trained to view a broader context of health and medicine rooted in integrative medicine. Public health is the foundation of this degree, with additional emphasis in health disparities, social justice and traditional medicines. Fieldwork allows students to apply their skills and obtain real-world experience with current challenges and opportunities in global health.
Graduates are equipped with the knowledge and skills to work within diverse cultural and multidisciplinary environments in local, national and international global health settings.
Graduates of this program will be able to:
Identify global health issues, international health regulations, and international health systems with an emphasis in traditional world medicines.
Display cultural humility, maturity and the leadership skills necessary to implement and manage public health programs in local and international settings.
Demonstrate effective communication and collaboration with diverse stakeholders in a global health setting.
Apply principles of advocacy, social justice and human rights to all programs and projects.
Abide by ethical, moral and legal code in cultural, medical, political and economic contexts.
Describe and prioritize major global health problems; potential economic, social and ecological determinants of these problems; and possible solutions.
Use a whole-systems approach and traditional medicine philosophy to solve problems in resource-limited settings.
Design, implement and evaluate global health programs for public health impact, sustainability and sociocultural relevance using proper research methodology and a traditional medicine approach.
MScGH Graduate Career Paths
We expect the majority of our global health students to seek additional education, and find careers in medicine or research. Other career options include jobs in:
Public Health
International Non-governmental Organizations (NGOs)
Non-profit Organizations
Health Policy