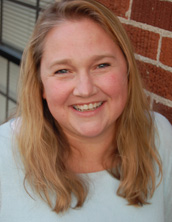 Ahhhh, Zanzibar. Sigh…
You don't know heaven until you know the beaches of Zanzibar. The water is more beautiful than Hawaii. The dhow boats floating by completely take you out of your Western brain, forcing you to succumb to the slow pace of Tanzania. The local saying is "pole pole," which means "slowly slowly," (pronounced pO-Lay pO-Lay). If you are expecting anything on time, and you start to get frustrated because it's not on time, the response is "pole pole" – meaning, relax you silly tourist. Why are you hurrying? You should be happy. It reminds you of that old Alabama song, "I'm in a hurry to get things done, I rush and rush until life's no fun…" Not in Zanzibar. In Zanzibar, pole pole is a natural state. There's no place you have to be, and relaxing is not even a question. The biggest problem we had with the students in Zanzibar was that they wanted us to schedule our classes around tanning time. They fully embraced pole pole. We all did.
Our last days in Zanzibar were spectacular. Perhaps my experience was enhanced by moving to a luxury hotel. I know – after describing my last accommodations, which were sweet and unique, you are probably shocked that I moved. We were short a couple of rooms for the students, so I bit the bullet and moved to the penthouse of the Z hotel on the beach. My room had a shade porch and a sun porch, both with classic Arab furniture. It also had an amazing shower – a blessing after so many weeks without hot water. I think that six or seven different people took advantage of my shower, and many also enjoyed the view from my porches, which I was happy to share.
The classes wrapped up in Zanzibar. I haven't talked much about the courses the students took while they were in Africa. They had three classes: International Public Health, Intro to Tropical Disease, and Global Health Experience. A lot of the learning was experiential for the global health experience and public health component… Come to think of it, some of the tropical disease course was experiential as well (that was unplanned.)
For public health, Corey had the students go through the USAID initiatives and related them to all of the experiences that we had on the trip. Their assessment was that many of the initiatives were well-intentioned, but may not be well thought out – depending on the infrastructure of the various countries. For example, it's easy to say in a USAID brochure that clean water and good hygiene is a goal. But when you see people carrying all of their water from a well in old anti-freeze containers, and that's all of the water they have for the day, it's hard to encourage washing your hands for 30 seconds every time you use the toilet and before and after all meals. It just isn't possible. They'd have to carry three or four times as much water to accomplish this – for just one family!
When we got to Zanzibar, Maria had each student do an oral presentation about a tropical disease, or a disease affecting Africa. They talked about river blindness, cholera, and Dengue fever, some of the more neglected tropical diseases. Greg gave a great presentation on why we shouldn't be pushing a vaccine for malaria. On the surface, it sounds like a vaccine would be ideal. However, when you consider the four strains of malaria, and the various stages of the life cycle, and how easily the bug mutates to evade the immune system, it seems that a vaccine is really not going to be effective. Yet, hundreds of millions of dollars are devoted to developing one. If instead, the money was put toward eradicating the plasmodium larvae carried by the mosquitoes – or mosquito control, which is how the US eradicated malaria – it may be better spent.
Travis discussed how insulin resistance is on the rise in Tanzania as it is in the US. That's an interesting topic in TZ because malnutrition is high. So how can you have insulin resistance (which we associate with obesity) and malnutrition? The issue is the type of food that has become popular – carbs. Carbs carbs carbs. For breakfast, chapatti (flatbread), or wonderbread, white bread (and the Tanzanians are proud to serve you wonder-bread because they think white people LOVE wonderbread. If you're eating street food, breakfast is donuts – made with either rice flour or wheat flour. Lunch? Something meaty with French fries (which Tanzanians call chips.) And dinner? Beans and rice, chapatti, and maybe some greens. Coke and Pepsi are king here. People drink soda because it's cleaner than water, and often easier to come by. So they drink Fanta, Coke, Pepsi, Tangawizi (Ginger Ale), and Sprite – and they drink a LOT of it. So, they have less calories than the recommended daily number of calories, but not all calories are created equal. And they wind up malnourished with blood sugar that is dysregulated.
We finished the course with Tropical Disease Jeopardy, with categories such as "Malaria" and "Creepy Crawlies." During this competition, we learned just how competitive medical students can be! Game or no game, they play to win. "Three drugs to treat malaria," Maria would say, and the students arms shoot into the air – "what are larium, malarone, and doxycycline!" They told us that the game wasn't hard enough. They want it longer and more complex. Wait – you want it harder? Are you really an NUNM student?
Swimming and tanning time and beach volleyball or soccer rounded out the days. The students left Zanzibar tan and happy, I think. It was a great way to finish up their portion of the trip.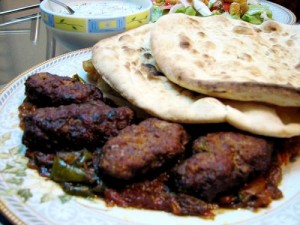 Tanzania isn't really known for its gourmet food. And everyone here has been fine with that. But some of our meals have been downright amusing. Because we like some things, Tanzanians assume we like these things together. We like baked beans and chapatti? We liked nutella and chapatti? Why not baked beans and nutella on chapatti? You like ginger tea? You like coffee? Let's make coffee made with ginger tea! For breakfast, large plates of fruit would arrive, chapatti, and hard-boiled eggs. Then, popcorn would magically appear. Why not popcorn for breakfast? You liked popcorn with your beer the night before. You must like popcorn. On the last day, Mark bought a vanilla cake and a chocolate cake – to celebrate birthdays of course. When the cakes arrived, they were decorated with cucumber and tomatoes. On cake. I have pictures, though I don't think that anyone is going to rush to imitate this combination for their next party.
When the trip for the students ended, I headed to Dar to spend a few days with Julius and his family, and to chill before starting the next leg of the journey. I spent an evening teaching Julius' youngest daughter, Telesia, how to play Uno. Of course, she doesn't know Spanish, so the word Uno had no meaning for her. We also played the memory game, Concentration, with endangered animals – a game I picked up from the World Wildlife Foundation. Telesia showed me her schoolbook. She's learning geography, civics, mathematics, and biology in English. Some of the questions were hysterical. And wrong. For example, on her civics test one of the questions was: In order to prevent disease, it important on you to: a) washing cat; b) be leadership, c) wash your hands, and d) sweep the floor. And… Telesia got it wrong. So we discussed what the right answer would be and why. And then we discussed how the question should be worded.
For lunch the next day, Julius came to pick me up… and took me to Subway –  yes, the very same Subway that I can go to in Portland. Or Minnesota. Or Montana. Or anywhere. I looked at him and said, "do YOU want to eat at Subway?" Oh yes, he said, he thought Subway was very good food. When we got inside, it was obvious that Julius had never been in a Subway. He looked confused. I said, "Julius, are we at Subway because it's mzungu food?" (meaning white person food.) He admitted that we were. I told him that I'd prefer local food. He looked relieved and we quickly exited Subway and headed to a local outdoor pub for chicken and chips. The drivers and tour guides always assume you want American food unless you tell them otherwise. They personally would never spend that much on food – and don't really like it.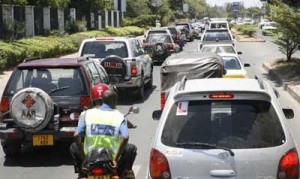 After lunch, Julius and I headed to the boarding school where his older daughter, Edifer, is enrolled. It was a 30-minute drive, and well worth it, because Edifer was so excited to see me. However, the drive home was a nightmare by American standards. We thought we'd be fine because we were headed against traffic. However, the traffic police in Dar thought they would help traffic out of the city by closing our road and allowing cars traveling out of the city to use it. This may have been logical for 15-30 minutes at a time, but the traffic police closed our road for 1.5 hours, from 5:30 to 7 p.m. Can you imagine the outrage if this happened in the US? Not so in Tanzania. Everyone turned off their engines. People slept on the side of the road, or in their vehicles. Vendors bicycled or walked between cars and trucks selling ice cream, cashews, and Jean-Claude Van Damme movies. It was just another average day in Dar.
I'm not exactly the most patient person. Sitting in the car for 1.5 hours without moving is enough to drive me crazy. Pole pole, Heather. Pole pole. So I spent the time learning more Swahili from Julius, and expressing amazement at the different vehicles that exist in Tanzania. Just take trucks, for example – there are little trucks, the size of golf carts careening down the road with enormous tall trucks, two trailers long. There are motorcycles that have been turned into trucks. And, not to be outdone, there are bicycles turned into trucks. If it's a vehicle, and you can haul something, you haul it. I think my favorite will always be the live pig I saw strapped to the back of a bicycle.
Marcus, Corey, Maria, Salim, and I are now headed to Bwindi to see the gorillas, and then on to Rwanda. When we left Dar, Julius hugged Corey and said, "I hope you don't like Rwanda." Julius, Sky, and George have become very attached to us, and they don't want us to leave Tanzania and take students to Rwanda instead. Julius said that he might have to move. We told them that we'd always come back to Tanzania. It's so interesting. We're now in Uganda, and I miss Tanzania. I will have to wait to get my next Tanzania fix until next year.
Sending love,
Heather