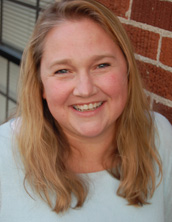 Good morning!
I'd say it in Lugandan, but I don't know how. It's quite difficult to switch out of Swahili, after working so hard to use it as much as possible in the past three weeks. But Ugandans don't speak Swahili. Many of the older people remember it from the days before Idi Amin. However, Idi Amin used Swahili for the Ugandan Army in the 1970s. The Ugandan Army killed a huge number of people – more than 100,000 including everyone from political leaders to civilians. People disappeared from their beds, never to be seen again. So even if older Ugandans know Swahili, they barely acknowledge Swahili if you speak it to them. The only people we've met who speak Swahili are those in the lodges who deal with tourists from Tanzania or Kenya. Overall, it's English or Lugandan here.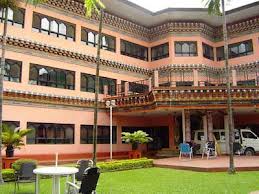 Yes, we're in Uganda now. I'm currently sitting in a hotel that was probably quite something in it's hey day. Now, it's a bit run down – mirrors with pieces missing, signs hanging on one hinge, and faded fake flowers and an aquarium that is a third full in the lobby. According to Marcus, the flower prints on the wall were old when they were new. I'm in the restaurant, waiting for the rest of my crew to wake up. There's an African remake of "Angel of the Morning" (originally by Juice Newton) on repeat on the stereo. It's played more than 20 times already. If I ever liked this song, it's forever ruined for me. I guess the irony of the situation is that this is the high end hotel. We passed a hotel on the way here called the "B plus hotel." I love that name! It's so honest! No, we're not a top rate hotel, but we're a B+.
Rather than fly into Rwanda, and use it as our base camp, we decided to fly into Uganda, and drive to Rwanda. That way we could visit a couple of clinics and research centers along the way. And Bwindi, where the people track gorillas, is right on the Uganda/Rwanda/Congo border.
I was in Uganda in 1998, when my friends Wendy and David were living here and working here. Uganda has changed. I can't believe the amount of development. I know it shouldn't surprise me. It's been 15 years, after all (which makes me feel just a little bit old). Furthermore, the Chinese are investing in Africa – and that's very evident in Uganda. You see signs for Mr. Ting's Guest House, and Xau Xe Xu Money Exchange. Most blocks have one or more Chinese businesses. Of course, the Chinese are not investing in Africa for free. They're providing infrastructure dollars in exchange for Africa's natural resources. Siwako Poley, one of our current guides, told us that the Chinese moved an entire mountain from Congo to China recently, so that they could take the minerals. Many of the roads in Entebbe that used to be red dirt are now paved. And there are many casinos. They're building houses – what would be called "McMansions" in the US – on the hillsides between Entebbe and Kampala. It's so odd to see a mud hut house, and then next door see the line of McMansions. I guess its just more evidence of the extreme income disparities!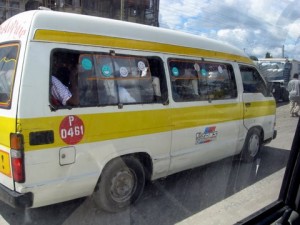 We were missing Julius, Sky, and George and their luxury jeeps already. Because we didn't have them, we wound up in a dala dala on our way to Mbarara. Dala dalas are NOT the most comfortable vehicles. These are retrofitted Toyota mini-vans, designed to seat 16-30 people. They are not comfortable. Did I already say that? Let me repeat. Uncomfortable. And this one had plastic covered seats, so you sweated and then stuck to the seats. But these Toyotas are practically indestructible – which is necessary on African roads.
Our goal was to visit a couple of clinics and a research center on our way to Bwindi. We needed to make it to Mbarara the first night. We drive south from Kampala to Rakai, and then on to Mbarara – crossing the equator on the way. What do you do when you cross the equator in Uganda? You take some pictures and eat guacamole. Why guacamole? TIA. You should know better than to ask by now.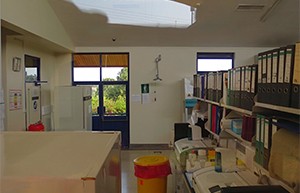 After the equator, we went another two hours to the Bill and Melinda Gates Clinic and Research Center in Rakai. Rakai is where the first case of HIV was identified in Africa. At one point, 60% of the town of Rakai was infected and most died. Since then, Johns Hopkins and Gates Foundation have set up an amazing research center in Rakai to study HIV and how male circumcision can reduce HIV rates. They also have malaria research and gender studies research underway. I think this would be an amazing place for some of my students to do internships. There were 10 students from Columbia doing research there while we were in town.
Just like Tanzania, Uganda is suffering from brain drain. They can't find enough clinicians to fill all of the positions at the clinics. The Rakai clinic is short-staffed, and they've started stealing clinicians from local clinics in the surrounding communities. They need 100 clinicians, and they can attract 40 if they take them from the other clinics. It still leaves them 60 short, but 40 is better than 10. Maria's friend, Sara, runs one of the local community clinics, and she's lost her entire staff. She explains the brain drain, and echoes what I read in medical journals – the doctors who are well trained show up in the community clinics, and they don't have access to fancy facilities and expensive equipment. So they move to the larger cities where those tools are available – and if they can't find it in Africa, they move to Europe or beyond. The result is lack of medical care for entire communities.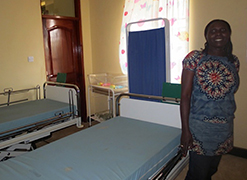 Sara is a force. She is the most powerful Ugandan woman I've ever met, and she's an activist. She comes from a village not far from Rakai. She went to a great school in Kampala, and then attended University in Holland, where she met her husband, Sander. When she was young, Sara decided that her village needed a clinic and a better school. So when she moved back to Uganda with Sander, she bought a hillside across from her mother's land, and had a school, a clinic, and housing for doctors, nurses, and teachers built .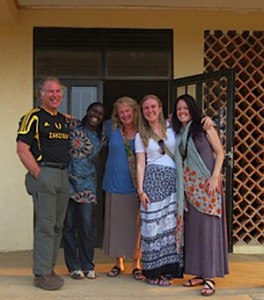 After visiting Sara's clinic, we realized the Mowo needs a Sara. It's amazing what she's done. The clinic is fabulous, and all but the lab is finished. And she's got housing! Doctors could start delivering babies in the clinic tomorrow – it's fully stocked with everything… except doctors.
Remember how I said that dala dalas are indestructible? Apparently I lied. The road to Sara's clinic broke ours. It threw it so far out of alignment that we ended up hobbling into Mbarara at about 20 kilometers per hour.
We're enjoying Uganda, even though I still like Tanzania more. As much as I miss the students, it's so much easier to travel without them. We can make decisions on a dime, and find places to stay that fit everyone's budget. That said, Marcus is definitely out of his comfort zone. He has been for the whole trip. In fact, he says that he's so far out of his comfort zone that he needs binoculars to find it. At least he's kept his sense of humor. The promise of seeing gorillas is keeping him going. That said, I'll sign off for now, and write more after the gorillas.
Sending love from Uganda,
Heather