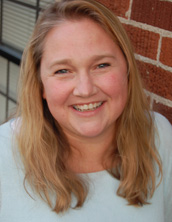 Indescribable!
The beauty and joy we experienced today is beyond anything I can say in words. Trekking to a family of gorillas in their natural habitat, and then being in among the gorillas for an hour was… beyond amazing. I am content. Totally satisfied.
We got up early in this morning, braving the mountain chill and climbing to the lodge for breakfast. The lodge staff packed us lunches with bananas, hard-boiled eggs, a piece of chicken, and mango juice. They even made little packets of salt wrapped in aluminum foil for us. Arming us with two bottles of water and our lunch boxes, they were ready to send us into Bwindi Impenetrable Forest.
And then Moses noticed Maria. She was out of clothes, so she was wearing her yoga pants and her Teva sandals. Nope. Wouldn't be allowed. We scrambled between us. Salim donated his jeans and shirt. Corey gave up her socks. And Moses found her shoes. The shoes were a little large, but with two pair of socks, at least she would be able trek.
We were driven to the forest gate in the lodge Land Cruiser, which was out of gas. Several times, Robert, the driver, had to stop, massage the gas line, and then drive another half-mile or so. But we made it. We picked up our guide, Steven, and several guards with rifles who shoot into the air to scare the tree elephants. These are not elephants who reside above the ground in the trees, but reside in the forest.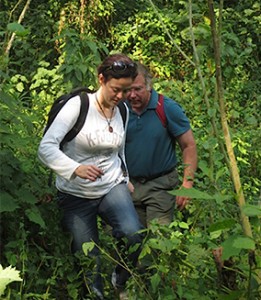 As we left the road, and hiked into the forest, the world changed. It was so serene and beautiful. By the name, the Impenetrable Forest, you must already suspect the forest is dense, and it is. But inside, it's not as dense as some Oregon forests up high. So the sun streams through the pines – and the effect is other-worldly. It's like a Disney movie with vibrant greens and unnaturally pronounced colors. There is a trail, but it's not that well-maintained. It goes up and over downed trees, and through nettle and thorny bushes. We started by hiking down a steep hillside to a valley floor. As we hiked, the guides scouted for the gorillas. The guides have a walkie-talkie system. They send one ahead to scope out where the gorillas are, and another stays with us, and leads us to where the gorillas are.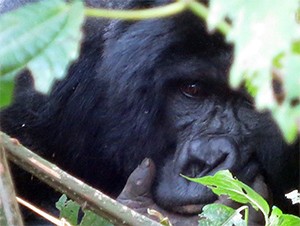 We'd only been hiking for about 15 minutes, maybe 20, when we heard the first crash. It was coming from a hillside a little in front of us and to our right. We could see a bush moving. And then, suddenly, there they were – first babies swinging from the trees, then mamas eating trees, and then silverbacks resting in the shade. It was magical. We scaled a hillside – no trails here. And then we were with them, maybe five feet separating us from these beautiful animals.
The first female we hung out with reminded me of my Grandma in her shape— narrow shoulders, and a round belly and hips. Grandma used to joke about there being enough of her to go around. This female looked just as comfortable in her body. She lounged, ate a little, looked over at us, ate some more. She seemed content to just devour her meal while we climbed over each other to photograph and film her.
The babies playing below soon captured our attention. They would climb up the flimsiest of trees, and as the tree bent over with their weight, they'd jump or swing to the next tree. Then two would vie for very same spot on the tree – not that there weren't hundreds of trees they could pick from. They are really just like siblings. It was tempting to think of my own mother turning around to my brother and I in the backseat saying, "Am I going to have to separate you?" Not the gorilla mamas. They simply beat their chest a little, and the babies stop fighting.
Gorillas are endangered. Between poachers and humans with upper respiratory infections, the gorillas didn't stand a chance. The females give birth only once every 4-5 years. Our particular group of gorillas contained 18 total, with several babies who were about nine months old. Because they spend 5-6 hours a day eating, you find the gorillas nestled into the forest, ripping apart trees that contain high water content. There were two silverbacks in our group. These older male gorillas are gorgeous – and look at you thoughtfully as you move in to take a picture. It's hard to find them among the brush, but once you do, they take your breath away.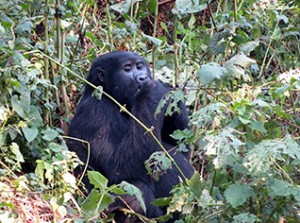 I could have sat in the gorilla pod for hours. The energy of the place was serene and nurturing. But we only get an hour, and so after an hour, the guide said, "Time to go." We reluctantly headed back to the trail, and up the steep hill back to the road. While we didn't want to go, we were all on a gorilla high.
Corey and Marcus said that seeing the gorillas was on their bucket list. And Maria said, "I don't' have a bucket list, but if I did, this would be on it." I also don't have a bucket list. I just have perpetual amazing experiences. And this definitely counted as one of those experiences that I wish I could share with my friends and family. There are people who I know would love it – not everyone, but some of my friends would be in heaven.
We returned to the lodge after just being gone a total of two hours. Moses was surprised. A lucky group, he said. We know. I requested 30 minutes to find them, and we got there in 20. Fantastic. We spent the afternoon by the fire in the lodge, reviewing our pictures and movies, and feeling spent. What a day.
Next day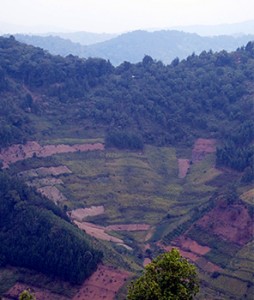 After one more night in Ruhija, we asked Moses to hire a new safari car so that we could get to Kigali in Rwanda. Katto showed up early Wednesday morning to pick us up. He and Moses got us to the border. They were both fabulous. Because of the language differences, most Africans don't understand American humor. Not so with Moses. I told him that I had a sock that went rogue, and that he'd likely find it when he least expected it. I also told him that he'd get more business if he stopped stealing socks. Moses laughed at me. "Many tourists leave their socks for me," he said. "Only because your beds eat them," I retorted. "Ok," he conceded. "Let's go to Kabale. I'll buy you African socks." No way, man. African socks. Who knows where those socks have been??? For his birthday, I'm sending Moses a box of socks. This guy is great. I'd happily send him business.
And Katto is a riot. As we go over bumps in his safari van, he explains that this is an African massage. And the big bumps? That's so we can dance while we're getting massaged.
Katto brought us all the way to Rwanda. It was supposed to take four hours. But when does an African drive ever take the amount of time it's supposed to? Nine hours later, we arrived in Kigali. We're now in Kigali. I'm sure most of you know of the Rwandan genocide that happened in 1994. There are genocide museums and memorials, but on the street, it's illegal to mention Hutu or Tutsi tribes. Everyone is Rwandan now. I'm not sure I'll go to any of the memorials. I don't need to bring old ghosts home with me. Not when I have the joy of gorillas…
Sending love from Rwanda!
Heather