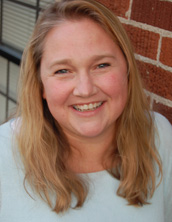 Hujambo from Tanga!
It seems hard to believe, but we're two-thirds of the way through our trip with the global health students in Tanzania. In some ways, it feels as if we've been here for months. For instance, goats and cows in the road and frequent cries of "mzungu" (white person!) no longer phase us. 'Africa time' has been adopted in full – meaning that we're an hour late for anything, and two hours late if it's food related. And bug bites are no longer a badge of honor to be shown off, they're expected. No one blinked when Elizabeth, one of the students, had mosquito bites on top of her flea bites. I don't even think we took a picture! Yes, we're in the thick of it, yet, it's been only two weeks.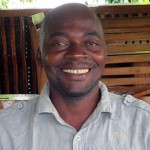 Before I tell you about this next leg of our journey, for anyone wondering… the vile porridge was a success! I'm healthy. I don't know what was in the porridge, but it is this year's miracle cure. Last year, when our students had typhoid, goat soup was key to getting them healthy. This year, it's the mystery porridge. I admit that I'm afraid to ask what was in it because illuminating the ingredients may make it even more disgusting. Nevertheless, after a single day on Julius' Remarkable Tanzanian GI Therapy, I think I'm going to trademark this regimen, I had recovered. I started the day with porridge, followed by fresh fish soup, and coconut – both coconut water and the meat. Julius (pictured right) also required swimming in the Indian ocean, and a massage from Happiness, her real name. I'm definitely sold on this therapy.
I just wish we could apply Julius' Remarkable Tanzanian GI Therapy to several of the patients we saw this week. Somehow, I don't think that this therapy is exportable – especially because I don't know any other massage therapists named Happiness.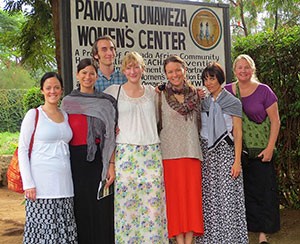 We were at TICC, a clinic run by a Norwegian NGO, but operated by Tanzanian nurses. The primary focus of TICC is mama-baby medicine. However, they also run an 'urgent care' type of facility.
The experiences at TICC evoked every emotion. There was the joy of weighing babies – adorable children wearing frilly socks and stocking caps in 85–degree heat. That joy was immediately followed with the horrifying reality that some of the children were very sick. One child, maybe 2 years old, had classic ringworm, with skin lesions that were better than most textbooks could depict. Another child was grey in color with HIV and TB – 9 years old, and will likely not live another two years – children with HIV and TB don't have a long life expectancy here. No one does.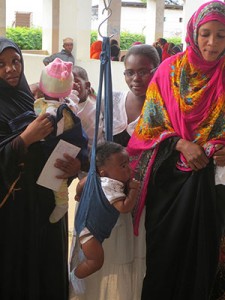 Like most Tanzanian clinics, medical records are somewhat of a luxury at TICC. Instead, the mothers carry the World Health Organization child development cards in order to follow the health of their children. These cards track weight, immunizations, HIV status, parental status, etc. and if a card is not brought in with a child, chaos erupts. Children are expected to be weighed monthly at the clinic. Every six months, they are given vitamin A injections, and de-worming medicine (mbendozole). Our students had the opportunity to observe in the immunization clinic – and saw that there are only tetanus shots here, no DTaP, which may explain why diphtheria has not been eliminated here as it has in the US.
The students also observed a family planning nurse, where Muslim women disrobed from their burkas to discuss and receive birth control. Most often the women chose progestin injections – which they need to have every three months. The nurse said that this is the easiest form of birth control to hide from their husbands. The incidence of spousal abuse in Tanzania is reported to be 50 percent in the research, but who knows how real are those numbers. When one woman disrobed from her burka, burns were visible up and down her arms. Another woman had had her first child at age 13, and after three children was seeking birth control. We watched removal of old norplants, and insertion of IUDs. It was an interesting cultural experience, to say the least.
Calvin, one of the medical students from Queens University joined us for the first part of the week, including TICC. He wanted to pick up some more natural medicine knowledge, experience coastal medicine, and learn tropical medicine with our students. After three days with us, I think we have a convert. Calvin has decided that he'll either join our tribe at NUNM or the Maasai. I'm guessing that joining the natural medicine community will be easier– as we won't make him kill a lion.
In addition to TICC, we had hoped to take the students to Bombo hospital as we did last year. However, the doctors this year did not want us to shadow. Thus, we went back to TICC to observe the urgent care ward. Here the students saw the typical motorcycle injuries. Motorcycle injuries are incredibly common here. In fact, most hospitals have an entire ward devoted to motorcycle injuries alone. A couple of years ago, we met researchers from Duke University who were studying traumatic brain injury in motorcycle accidents in Tanzania. At TICC, the students saw a couple of different injuries, including those received when a motorcycle falls, and those received when a motorcycle runs a bicyclist or a child off the road. Additionally, the students also saw wounds from a machete fight. Now that's not something you're going to observe every day in Portland.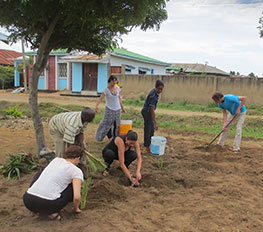 One of the biggest highlights of the week was planting a garden for Bongo. Asani, Sheboni, and Kareem brought plants from the gorge where Bongo used to harvest his plants, and we all spent a morning hoeing and planting an homage garden. Lemongrass, aloe, Malaysian trees, and the weird bulbous root that Bongo is named for – which treats HIV. The garden will be unlike any other. And it was clear that the students enjoyed getting their hands dirty.
Lest you worry that that students are working too hard, be assured that they are equally being spoiled. They have had ice-cream coffee daily at Capricorn Beach Cottages, and a spa night where everyone but Greg re-did their Deet discolored toe nails. Fiona has the tide table memorized so that she can swim daily. Poor Greg has an injury – a rib is out – and we think it's from playing too much Sodoku. The playing has been tough, but somehow, they are surviving it.
For you animal lovers, the blue-balled monkeys of Tanzania are a riot. I know my brother is cringing right now, but that's what they are! They use the hammocks as trampolines. One monkey sits in the hammock to provide extra tension, and then the other monkeys jump and down, doing crazy tricks and spinning the hammock around. In another trick, one of the monkeys sits on the hammock, and another leaps down from the tree above launching the first monkey into the air. Annabelle, the owner of Capricorn, tells me that my hammock is the "nursery" for monkeys. All the babies are at this cottage. I could watch them for hours – if I had extra hours.
And I was watching the monkeys when a green tree snake dropped from the tree in front of my cottage, slithered across the lawn, up the picnic table, across the hammock, and back up the tree. The snake was narrow in diameter – as big around as my thumb – but was at least 3 feet long. Yikes! Julius assured me that the snake is very poisonous, but very polite. As I was not sure what a 'polite' snake was, he explained that it means the snakes fangs are pointed inward, making it more difficult to bite a human. I'm fairly fearless about most things, but I'm not walking under that tree anymore. Nature never fails to amaze me though. Behind my cottage is a large family of mongoose – maybe 40 mongoose! Clearly they have arrived to protect me from the polite tree snake.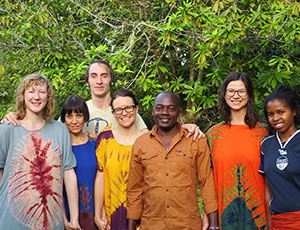 Julius left for Dar today. We will all miss him. He and Alice have been making us delicious food – crepes, octopus, calamari, and chips my eye. He's also been participating in the student's sodoku parties. However, tomorrow, we will catch a boat to Zanzibar, so we no longer need our driver and friend with us. Tonight is a farewell party with many of our new friends – Happiness the masseuse, Sheboni and Asani from Bongo's, Andrew and Kathryn from Pamoja, and Eliphas are all at the house for a BBQ… except there was a little mix-up, and someone boiled the fish that was supposed to be BBQ'd turning it into a lovely coconut fish stew. So we're serving soup at our BBQ. TIA.
I'll write more from Zanzibar!
Upendo! (Love!)
Heather