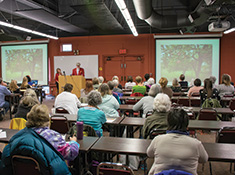 Continuing education outreach projects at NCNM continue to grow with the recent startup of the Food as Medicine Institute (FAMI), the college's third community-focused program to launch in the last three years.
FAMI joins two other institutes at NCNM with a mission to provide community education: the Women in Balance Institute (WIBI), which provides information on the hormonal health issues of women over 40, opened in June 2012; and the Traditional Roots Institute, launched in May 2013 to raise awareness of the healing power of botanical medicine.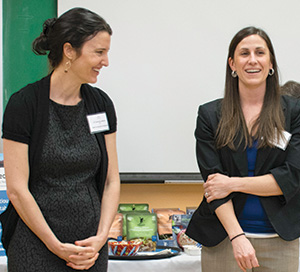 Leading the new Food as Medicine Institute are co-founders Drs. Courtney Jackson ('08) and Julie Briley ('11), naturopathic physicians and NCNM graduates.
FAMI is charged with providing nutrition education to healthcare professionals and the general public. As a result, the institute will sponsor lectures, workshops and conferences for healthcare practitioners who want to expand their understanding of the relationship between nutrition and health as a means of preventing and reducing chronic disease.
In addition, FAMI provides public classes and workshops for those who wish to deepen their knowledge about the value of whole-foods nutrition and preparing delicious, healthy meals.
"NCNM teaches our students the correlation between food and health— food as medicine is literally the foundation of naturopathic education," said NCNM President David J. Schleich, PhD. "We're delighted that this knowledge is going mainstream, with grocery stores now stocking organic foods—even fast-food chains are moving toward healthy menu options."
FAMI traces its roots to NCNM's ECO Project (Ending Childhood Obesity), a partnership formed in 2011 with Bob's Red Mill founders Bob and Charlee Moore. The Moores share NCNM's concern about the increased prevalence of childhood obesity and the associated rise of diseases affecting children like diabetes, hypertension and liver disease.

The project's 12-week bilingual nutrition education and hands-on cooking workshops offered free to low-income families have had approximately 500 families successfully complete nearly 6,000 workshops taught by licensed naturopathic physicians. That success led to the development of NCNM's low-cost Food as Medicine Everyday community workshops based on the ECO Project model.
Keeping that ball rolling, FAMI held its inaugural Food as Medicine Symposium in early April, which included continuing education lectures for healthcare providers and classes for community members. The symposium, held in NCNM's Academic Building attracted a crowd of foodies, budding cooks, and naturopathic doctors—nutrition experts by training— who discovered there was still more to learn. The halls were also packed with food vendors—excited to be part of FAMI's first conference. Bob Moore, on hand to deliver the keynote presentation, was one of the symposium's many highpoints.
The support of the Moores has been a driving force in FAMI's development. They also helped fund NCNM's Charlee's Kitchen, a research/teaching kitchen which opened in 2012. Under the FAMI umbrella, Charlee's Kitchen now hosts an evolving series of hands on cooking classes taught by some of Portland's top chefs, including Ken Gordon, Abby Fammartino, Kimi Reid and Tressa Yellig, among others.
Said Dr. Schleich, "NCNM's Food as Medicine Institute will continue to be at the forefront of this exciting re-awakening about the importance of whole foods and farm-to-table nutrition."