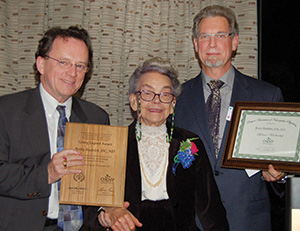 National College of Natural Medicine will honor its first female graduate, Betty Jo Radelet, DC, ND ('68), on June 28. NCNM will christen the college's Annex lecture hall as Betty Radelet Hall for her groundbreaking endeavors, resiliency, and loving service in the advancement of the naturopathic medicine profession. The official ribbon-cutting for Betty Radelet Hall will follow NCNM's commencement ceremony held the same day.
"Dr. Betty" staked her claim as the "oldest continuously practicing naturopathic physician in Oregon" when she retired in December 2010 at the age of 89. Radelet graduated from NCNM in 1968, a year of upheaval throughout the U.S., including the country's second wave of feminism—a movement for women's social equality and equality in the workplace, among other rights.
According to "Focus on Alumni: Betty Radelet, DC, ND (1968)," published in NEXUS in spring 2010, "Until the late 1970s it was still uncommon to see a woman in an NCNM classroom. Today women outnumber men students by a ratio of 3:1."
As renowned naturopathic physician Dr. Jared Zeff ('79) writes in the forward of Radelet's book about her years in practice, Anecdotes and Antidotes (2009, BJ Publishing), she entered the profession of naturopathic medicine at a time when it was in rapid decline. He says that when she started practice in 1968, "she could hardly have picked a worse time. Naturopathic medicine was considered a dead profession. Most of the states that had licensed the medicine rescinded those licensing laws… of the 20 or so schools that had existed nationwide, only (NCNM) remained."
Radelet's path to medicine—like Radelet herself—is unique. Widowed at age 41 with seven children, she earned her chiropractic degree from Western States Chiropractic College (now University of Western States). Soon after, a combination of events led her to NCNM. Her affinity for naturopathic medicine (and nature cure) deepened, benefiting thousands of patients through her lifetime of service.
Radelet was first recognized by NCNM in 2010, when she was honored with the inaugural Living Legends Award, presented jointly by NCNM and the Oregon Association of Naturopathic Physicians.
At the 2010 Living Legends dinner NCNM President David J. Schleich, PhD, expressed his gratitude to the pioneering physicians like Radelet: "All of us are indebted to the doctors who built the tradition of natural medicine in the Northwest with quiet determination… Their dedication to their patients and to the practice of natural medicine is the bedrock of the profession and serves as a shining example for the thousands of NCNM graduates who have followed in their footsteps."
NCNM will beautify and update the former Annex into the new Betty Radelet Hall with signage, wall installations and plantings.
To contribute to the Betty Radelet Hall campaign, please contact Alumni Officer Bill Tribe at btribe@nunm.edu or 503.552.1523.