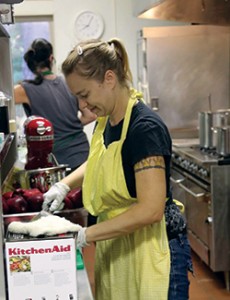 Ah, to be a kid on summer break. No classes, only books you want to read, and if you're lucky, a week away from home at summer camp.
For many children with food allergies, though, summer camp is either a nightmare of constant eating vigilance or completely out of the question. That's why ND student and "foodie" Brook Ahnemann worked the past two summers at Camp Blue Spruce near Banks, Oregon, approximately 30 miles west of Portland. Camp Blue Spruce has everything a camper could want, from swimming to hiking, to arts and crafts and campfires. What it doesn't have is food with allergens, so at this camp at least, children ages 9 to 15 can relax and enjoy food.
"It lets the kids be kids," said Ahnemann, "and they are in a community where they no longer stand out as 'special.'"
Ahnemann heard about the camp in 2013 while working at a spice shop in her hometown of Olympia, Washington. The shop's owner is an aunt of a Camp Blue Spruce board member. That summer she signed on to help run the kitchen. This year she was in charge. That meant planning meals and joining the cooking crew to deliver "fun and tasty meals" to about 60-80 kids. The catch? The food needed to be free of all of the top 10 food allergies, which include dairy, eggs, peanuts, shellfish, wheat and several other troublesome foods.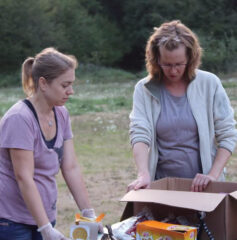 It's not as hard as it sounds, she maintains. "It only takes a few small tweaks in the diet to cook allergy-free," she said. "I also included medicinal foods. Eating is something we all have to do anyway, so why not?" She added, "It's a nice place to start the conversation about helping people through food. It's so nice to see kids enjoying meals instead of being afraid of food."
Enjoyment of food runs deep in Ahnemann's family. "I've been interested in food my whole life," she said. "It's an essential part of my family life and I cooked a lot at home." In addition, an uncle was a chef and her parents ran a mini-farm when she was growing up, complete with goats.
At NCNM, she's a veteran of the annual trek to Tanzania as part of the Global Health program. She's taken Dr. Andy Erlandsen's Farm to Table class and participated in the Food as Medicine and Ending Childhood Obesity programs. After graduation, she plans to work as a primary care physician with an emphasis on nutrition and women's health.
Despite all her food experience, including working at restaurants, Ahnemann hadn't realized what an impact allergies have on people until working at the camp. There, she talked to kids whose allergies were so severe they didn't go to school. A girl told Ahnemann after a dance at Camp Blue Spruce that she could finally contemplate a romantic kiss for the first time without allergy worries.
Ahnemann, who first became interested in homeopathy through a family friend who was a pharmacist, pondered a career in restaurants or catering for special diets, but opted instead to study naturopathy. "Being an ND is a perfect combination of all my interests. I get to be a doctor, a teacher, and work with people." The experience at Camp Blue Spruce, she said, will have a lasting impact on her practice. "I just like getting people excited about food," she said.