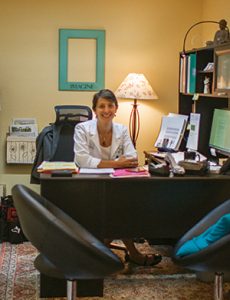 "Welcome to the tribe," she says to the new staff recruits, a few of whom look a little pale after having their blood drawn as part of new employee orientation. "I'll bet you never had to 'donate' blood to get a job before!"
In her year and a half as NCNM's Chief Medical Officer, Regina Dehen, ND ('96), MAcOM, has delivered her talk at NCNM on tuberculosis, hepatitis and disinfection procedures probably a dozen times. However, she is no stranger to making presentations or to laboratory procedures. Dr. Dehen taught for 17 years at her second alma mater, Portland's Oregon College of Oriental Medicine, where she was chair of clinical studies for three years and briefly its chair of research education. Presently she serves on the Assessment of Prevention, Diagnosis, and Treatment Options Advisory Panel for the national Patient-Centered Outcomes Research Institute, authorized by Congress to develop and improve the science and methods of patient-centered outcomes research.
Dehen, who is the first CMO to focus full time on the job and the first to hold both naturopathic and Chinese medicine degrees, does a lot more than oversee TB testing and education. She is in charge of making sure the NCNM clinics meet all state and federal regulations, accreditation standards and requirements. She also keeps up on industry best practices and encourages clinicians, students and faculty alike, to adopt changes that will enhance safety and the patient experience. And, ever the teacher, she teaches one clinical shift and is an occasional speaker in NCNM classes.
Back at the lab, the new hires are getting their color back and sporting cotton balls taped to the crook of arms where blood was drawn. Dehen explains that healthcare facilities are required to screen for Mycobacterium tuberculosis, the bacterium that causes tuberculosis. As a result, all new employees at the college, whether they work in the clinics or not, have to be tested and certified clear of the bacterium. Positive tests are rare, she says, but require a rigorous drug regimen and follow-up testing.
Early in her life, Dehen knew she wanted to be a scientist and first thought she would become a paleontologist. However, studying ancient bones and evidence of past life gave way to a passion for all things living. She studied biology and chemistry at Portland's Reed College, where she earned a Bachelor of Arts degree in biology.
"I'm fascinated with evolutionary biology and biophysics. The most interesting questions lie at the gray edge between things—where we came from, how we got here, where are we going?"
Despite her biology interests, Dehen has little sympathy for the "bad bugs" that could harm people—and disrupt clinical operations. She is a strong promoter of easy access to information about procedures to handle potential exposure to HIV and other disease-causing organisms from accidental needle sticks, cuts and other hazards. In addition to TB testing, each new employee receives instruction on the proper use of disposable gloves and disinfecting wipes to prevent the spread of germs. Packets telling people what to do and who to call in case of exposure to blood or body fluids are located around campus and the clinics.
Good thing too. Keeping viruses, bacteria and fungus at bay is a full-time team effort. Also, needle sticks from syringes happen about once per month, she says. Recently, she also helped handle an accidental scalpel cut and a puncture wound from an acupuncture needle which had lodged in a rug.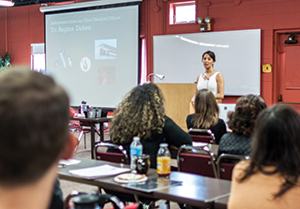 All in a day's work in the teaching clinics, though it easily could have turned out differently. While at Reed, Dehen was listed as pre-med and did a stint as a research assistant at Oregon Health & Science University after graduation. She learned a lot from the experience, but noting the haggard looks of stressed and overworked postdocs, she decided traditional medicine was not her cup of tea. So, she went to work for about three years as an environmental scientist and consultant, making a good living, but decided it wasn't the kind of biology she wanted to be involved with.
Then she got a kidney infection, went to a big hospital's urgent care unit and was put off by the long lines and waits to get seen. Her partner suggested visiting Peggy Rollo, ND ('86), LAc, who went to work on Dehen using naturopathic expertise and herbs. When the infection was declared cleared by a traditional urologist, Dehen knew she was on to something. She enrolled simultaneously at OCOM and NCNM, earning degrees in 1995 and 1996 respectively.
Now, as the mother of two daughters, Tessa, 13, and Samantha, 11, who were both born on the solstice, she seems to be right where she should be.
"Life is such a transient blink—we are here for such a short period of time," Dehen says. Becoming a scientist is "an opportunity to explain this version of existence as thoroughly as possible—to get into it, explore it, find out about it, apply it and find purpose…(which is) even more meaningful if I can make things better… life is so tough for so many."