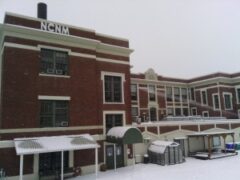 Going back to school in the winter usually lacks the excitement of starting in the fall. It follows a long wonderful holiday vacation, is the middle of the dark and cold Portland winter, and there is still one remaining quarter before summer vacation.
Here are some of my favorite survival techniques for winter quarter…
Make good use of the cold dark weather, and catch up on sleep! The weather right now is perfect for sleeping. Being well-rested makes those dark early mornings easier to bare, so go to bed early.
Prioritize exercise. Keeping those endorphins flowing for 30 minutes a day, five days per week can help fend off those winter blues, and prevent unwanted winter weight gain.
Reduce time in the kitchen by making quick crock pot meals once a week. Having time to prepare nourishing meals is hard enough during school, and during the winter motivation is more likely to be low. Take a little time every Sunday to prepare 1-2 meals to eat throughout the week. I love the crock pot because it does all of the heavy lifting for you.
Make use of the sunshine when it comes around. Contrary to popular belief, Portland does get a few sunny days in the winter. When they happen, go outside! To combat the cloudy days, Vitamin D is often helpful in the winters as well–talk to your doctor and naturopathic physician to see if Vitamin D supplementation might be appropriate for you.
Winter quarter might be dark, but Portland summers make it all worth while, and will return before we know it.
Post written by Laura Gouge, fourth-year NCNM student in the naturopathic medicine program.