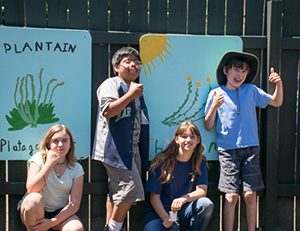 PORTLAND, Ore. (June 4, 2015)—On Monday, June 8, Southwest Charter School (SWCS) will present a 135-square-foot mural installation to National College of Natural Medicine (NCNM) for display in its new Galen's Way Garden. The mural, "Plants Around Us at Galen's Way Garden," was funded by a $5,200 matching grant from Portland's Regional Arts & Culture Council (RACC) and produced by the charter school's fifth- and sixth-grade students.
The mural presentation will begin at 1 p.m. NCNM broke ground on Galen's Way Garden last summer through the generous support of Galen's Way, a California-based herbal company. The medical college opened the herbal community garden to local schools, including SWCS.
SWCS Field Work Coordinator Sarah Anderson said the mural project, featuring 18 plywood panels depicting medicinal herbs, incorporates both science and art. Anderson noted that the project was the main focus of study within the school's science and botany curriculum this spring. The $2,600 RACC donation was matched by the school with in-kind gifts and through its Run for the Arts fundraising campaign, which allowed SWCS to hire artist-in-residence Nina Montenegro to help the students plan, design and create the mural with the necessary art materials and studio space.
NCNM and SWCS initiated their educational collaboration in fall 2014, said Orna Izakson, ND, lead physician of NCNM's Traditional Roots Institute. "NCNM's campus gardens are outdoor botanical classrooms for our students, and we love to share them with the greater Portland community," Dr. Izakson said. "The mission of Traditional Roots Institute is to educate the lay and medical communities about the medicinal properties of herbs, which can be grown right in our own backyards. We saw an opportunity within our new Galen's Way Garden to provide hands-on learning for the youth in our urban area. It was an ideal way to literally and figuratively plant seeds with Portland's next generation of gardeners and herbalists. We're excited to participate in this collaborative outdoor classroom experience with elementary school students at Southwest Charter School."
NCNM's Traditional Roots Institute volunteered its services to teach the SWCS students. "NCNM provided two raised beds to the school and gave an overview of herbal medicine to the SWCS teachers and students," Izakson explained. "For example, the children learned that the yarrow they planted is used medicinally as an antimicrobial agent, inhibiting the growth of bacteria and fungus. Thyme and fennel offer dual benefits—both culinary and medicinal. Thyme is another antimicrobial, and fennel can be used to improve digestion. Lavender is another favorite multipurpose herb. It's not only a beautiful flowering plant, but also has calming properties and can also be used in cooking," she said.
Anderson said that hands-on learning not only engages the budding botanists, but learning botany through a multidisciplinary approach of art and science creates a powerful educational experience for the children, deepening their understanding of the material.
Artist Montenegro has been essential to the success of this project, Anderson said. "She has facilitated the relationship with NCNM by exercising her personal interest in plant medicine and 'place-based,' social practice artwork. A guiding philosophy at SWCS is to be a 'place-based' school—which means we fuse curricular goals with community goals. Much of Nina's work can be considered 'place-based' art because it encourages the viewer to think more deeply about the place they're visiting, which is rooted in the local community. Having Nina develop this project and relationship with NCNM has been an ideal pairing for our students."
The public is invited to the SWCS mural installation on June 8 at 1 p.m. in NCNM's Galen Way Garden on the NCNM campus. The Galen's Way Garden is open to visitors weekdays from 7 a.m. to 9 p.m.
ABOUT NCNM
Founded in Portland, Oregon, in 1956, NCNM is the oldest accredited naturopathic medical school in North America and an educational leader in classical Chinese medicine and CAM research. NCNM offers both postgraduate and undergraduate degree programs: these include a four-year graduate medical degree in Naturopathic Medicine; and two four-year Classical Chinese Medicine degree programs; four Master of Science degrees in Integrative Medicine Research, Nutrition, Global Health, and Integrative Mental Health; and two Bachelor of Science degrees in Nutrition, and Integrative Health Sciences. NCNM also provides community education through the NCNM Institutes: Women in Balance, Traditional Roots and Food as Medicine. NCNM's teaching clinics, including NCNM Clinic, the Beaverton Clinic, and the college's many community clinics, provide low-cost medical care throughout the Portland metropolitan area. NCNM practitioners, residents and student interns treat approximately 40,000 patient visits per year.
About Southwest Charter School
Opened in 2007, Southwest Charter School offers a unique public school option in Southwest Portland. Southwest Charter offers a different educational experience, encouraging exploration of the natural world and involvement in the local community through the arts and sciences. Southwest Charter School is a small, public school community that is dedicated to providing a creative learning environment where students develop a sense of place and become stewards of the natural world and active citizens within our community. Visit http://swcharter.org/ for more information.
About Galen's Way
Since 1999, Galen's Way has been committed to crafting the highest quality, therapeutically active herbal skin care. Galen's Way products are unique in their concentration of whole plant extracts, creating a true herbal therapy. Galen's Way chooses ingredients that support the terrain of the skin, promote regeneration and reduce inflammation. The use of carefully selected herbs is steeped in tradition and supported by scientific data. Learn more about the company here: www.galenswaystore.com/.