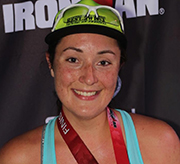 The first year of medical school is tough enough for most people, but ND and nutrition student Samara Stevens had an additional challenge: training for and participating in the most rigorous triathlon around—the Ironman.
Yes, Samara signed on for a competition in Whistler, British Columbia involving 2.4 miles of swimming 112 miles of bicycling and 26.2 miles of running, all of which must be completed within 17 hours. During roughly the same time period, she began her concurrent degree studies. A little overambitious you say? Wouldn't one commitment naturally interfere with the other? "There is no doubt that pairing an Ironman with medical school raised some questions," she said. Like how to get enough sleep, eat right and still give her full effort to her lifelong dream of becoming a doctor.
However, she said, the nutritional support and time management required for the tough physical training averaging 12 hours a week actually helped lower her worries about academics. "I was always someone that had to get A's," she explained, "but the Ironman training meant I couldn't obsess." She passed all of her classes and earned honors in some.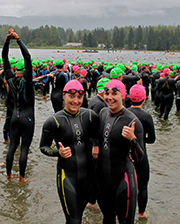 Samara has been interested in medicine since she was six-years-old when she witnessed paramedics working on an injured person at Lane Community College in Eugene. She first got interested in triathlons as the yearbook editor at Oregon State University while studying for her nutrition degree. The avid swimmer and former lifeguard needed to fill some space in the yearbook and discovered there was a triathlon club at OSU. Intrigued, she volunteered at a race and then competed for the first time in 2014. "I was absolutely sold then," she recalled, "I did five or six more races that year."
She first set her sights on medical school at OHSU, but a friend encouraged her to look into NCNM. "I was blown away to find a program that emphasized all the things I wanted to do." She applied and waited. In the meantime, people kept asking her what she would do if she didn't get into med school. After a while, she answered "I'm going to train for an Ironman," and then decided to actually sign up for one. Two weeks later, she was accepted at NCNM.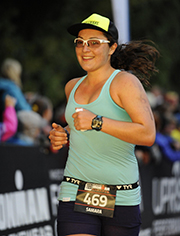 Not one to shrink from a challenge, she went full bore into both. With several thousand people cheering the 2,000 competitors, she finished the race in 13 hours 55 minutes, good for 7th in her age group. Samara will enter her second year at NCNM this fall and is as passionate as ever about medicine. But another Ironman?
"I'm not sure I want to put that much energy into it again," she said, "but there is an Ironman in Cozumel in 2016."