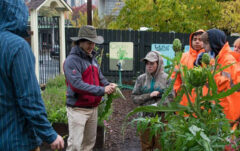 PORTLAND, Ore. (Nov. 13, 2015)–Brian Landever, NCNM's advancement officer for campus beautification, hosted a group of students from the Reynolds Learning Academy vocational school at NCNM recently. The students helped transplant medicinal plants and learned some landscaping and plant basics.
Last Wednesday, 13 students from Reynolds Learning Academy came to NCNM to volunteer. They worked with me in planting Rose of Sharon shrubs in front of NCNM's Spaulding House, and transferred many medicinal plants from the college's Galen's Way Garden into pots. These were then moved to the front of the Academic Building, transforming the entrance ways into fragrant pathways. Holy basil, rosemary, ceanothus and oregano filled the new pots, introducing a theme for the gradual greening of the entire campus.
Reynolds Learning Academy is a vocational school providing a supportive and positive learning environment for teenagers while meeting their individual needs. They enter into daily, hands-on training in order to build the skills they need to become master carpenters, journeymen, iron workers, landscapers, and more. Mindful of this, Kathy Stanford, NCNM director of HR, gave them a formal welcome in the Ken Harmon Community Room. I then taught the students how to landscape for clients, describing the aesthetic and medicinal benefits of Rose of Sharon, how to establish proper watering systems in gardens and curate gardens. The students learned how many of our Min Zidell Garden plants are used medicinally. They were enthralled to be able to sample typical home spices like coriander right from the garden beds, peppering me with questions.
The NCNM community played a part in making these students feel welcome. As the teens entered the student lounge for lunch, NCNM students invited them to the tables, the Student Doctors for Ethnic Diversity invited them to share the potluck they prepared, WishGarden Herbal Remedies provided them with a 20 minute talk about their wonderful botanical formulations and even sent them home with samples. The ping pong table in the Student Lounge also provided some fun and a rare lunchtime treat for them.
Reynolds Academy teacher Angie Gilbert expressed great appreciation for the welcome NCNM gave her students. She explained that these kids really benefit from adults who value and respect them and who are willing to tailor teaching to their interests. The kids are really excited and looking forward to their next visit to NCNM.
By Brian Landever, advancement officer for campus beautification