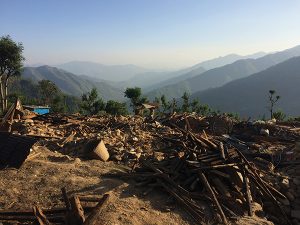 When disaster struck the Nepali village of Karmidanda, alumna Erin Moore was the only doctor for miles.
Nepal, the ancient Himalayan country tucked between India, China and Tibet, is a mystical and mysterious place to Westerners. Although Southern Nepal is a hot and tropical river valley, most of the rest of the small country is dominated by the tallest mountains in the world, including Mt. Everest. Known as Sagarmatha to the locals, Everest is just one of many stunning peaks in the region created by the collision of the Indian and Eurasian tectonic plates.
In the lore of the Hindu, Buddhist and Bon religions, the mountains and deep gorges are the sacred homes of gods, demons and fairies, created by the conflicts between good and evil. Some, including Tibet's Mt. Kailash, are considered so holy that climbing "the cosmic mountain" is considered a desecration. It is a region of many myths and legends, including those telling of a giant ape-like creature, the Yeti or Abominable Snowman, and the story of Shambhala or Shangri-La, the hidden city of peace and enlightenment. But in April 2015, whether the work of gods, demons or simply natural forces, the ground shook, twisted and rumbled, laying most of the country to waste and killing approximately 9,000 people.
Dr. Erin Moore, a 2014 graduate of NCNM's naturopathic medicine doctoral program, had been to Nepal before. During her first trip in 2007, as part of a trip around the world, she traveled into the Himalayas, and like many before her, was instantly taken in. "There is something about this place," she said, "it feels like home when you first arrive." She returned as a tourist again in 2009, and was on a bus ride to the mountains near the Tibetan border when the bus broke down. Far from any towns or repair facilities, and having no other options, Moore and a fellow American female companion accepted an invitation from a local man on the bus to come to a village where a friend of his lived. The catch: the village of Karmidanda was four hours away on foot. Though both were tired and her friend was skeptical, the pair set out with the villager.
It was a long, rough walk up the side of a river valley, but when they reached Karmidanda, she quickly felt a sense of serendipity. The village warmly welcomed the Americans with food and shelter, and Moore was impressed with a group striving to make things better in the remote area. "They didn't have a lot of needs, but the group was really motivated to help."
All told, she made four trips in five years, including one to help set up a temporary clinic. Other trips saw her leading development projects like building clean water stations, gardens and sanitary services. A family there "adopted" her and gave her a place to stay. She felt a special call to Karmidanda and kept coming back, even as she worked on her medical degree, both to help and to recharge from the rigors of the Western world.
A year after graduation she returned again in the spring of 2015 to improve on earlier efforts at the village, some of which had proven unsustainable in her absence. The problem, she had decided during her year away, was that such things as gardens and even modern sanitation facilities were her priorities, not necessarily the villager's goals.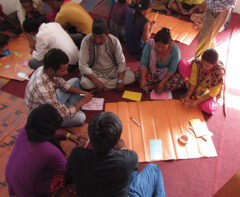 Although she had applied the naturopathic principle tolle totem (treat the whole person) to the village, it was another principle, tolle causam (treat the cause) that inspired her to employ a community development concept called participatory development. It's a process where locals identify their needs and take the lead on developing and applying solutions. In a variation on the old "give a man a fish" proverb, the program teaches skills such as assessment and needs mapping, which local leaders then apply to their community. A sense of ownership naturally develops and projects continue after outside aid workers leave.
The project was set to begin in a few weeks, but nature had other plans. On the morning of April 25, as Moore and a group from Karmidanda were walking to Katmandu, the Nepali capital, 30 miles away, a powerful 7.9 magnitude earthquake hit. Though she had never been in an earthquake, she knew immediately what it was. The ground rolled and swung back and forth, reminding her of a roller coaster.
In her journal, she recalled those first moments after the quake: "We walked a few minutes back toward the village and saw the scope of the destruction. It was a clear day and the hillsides of the Trisuli River valley are usually speckled with pretty little villages amidst the terraced land. Today, the villages turned to clouds of dust. We were horrified as we realized Karmidanda probably looked the same."
She continued, "The quakes kept coming and our group grew with young people trying to get back home. People were screaming and wailing all around, every house we passed was totally destroyed…survivors were huddled in the road scared and crying."
Hurrying back towards Karmidanda, she saw a dust cloud and knew it was a bad sign. When she got there, her worst fears were confirmed. "Karmidanda…two modern houses standing. I was so happy to see each face…groups huddled in open spaces…we got to our house and could see right through it…the kitchen is a pile of rocks. Many are dead, several are severely injured. We've built shelters for the night and are praying we can get some to the hospital tomorrow. I don't think I will sleep tonight—aftershocks constantly."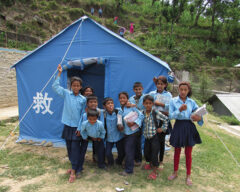 The following day, April 26 around noon, she recorded this assessment: "What a nightmare. Twenty-four hours ago this place was my paradise and now it feels like a war zone. Everyone is homeless. We're in tent sites and makeshift shelters. Most are still in shock, paralyzed with fear. The aftershocks are countless and continuing. We can see and hear landslides all around us—helicopters every five minutes rescuing foreigners and (the) severely ill."
In addition to the toppled home, in one stroke the village's clean water supply and limited sanitation facilities were destroyed. Most of the livestock and at least four villagers were dead, with many more injured. Luckily, her host family made it through relatively unscathed. Moore, the brand new graduate of NCNM, all of 31, was the only doctor for miles. The village's lone clinic was buried in rubble. Fortunately, she had carried a first aid kit and a homeopathy kit along on her aborted trip to Katmandu.
Still in a state of shock herself, Moore knew she was going to need every scrap of her ND training. She set up a clinic under a tarp and began triage. Patients with severe crush injuries were loaded on makeshift stretchers and taken by foot to the nearest hospital in Trisuli. "I knew that we were going to have a lot of serious needs, and I was the only doctor," she said. "I made a conscious choice to feel later and just act. I stuffed away my fear and heartbreak, and just worked."
Luckily, many of the survivor's wounds were superficial and easily treated. "I did a lot of cleaning wounds and tried to provide a calming presence," she said. "The people were so appreciative." Other people, though, were bleeding, a challenge with her limited supplies. She used dried cinnamon from a neighbor's kitchen and a native plant called banmara, eupatorium adenophorum, long used in Nepal for cuts and bruises, made poultices and was able to slow or stop bleeding. For bright red, gushing blood, she applied the cinnamon and banmara poultices and administered homeopathic phosphorus by mouth. "That plant saved lives," Moore said of banmara, "my knowledge of local plants and my homeopathy kit" also proved invaluable.
So did her outside contacts, notably boyfriend Nat Willis, a Portland businessman with experience in Nepal, and fellow NCNM grad Desha Wood, ND ('14), who cranked up the social media machine to help raise relief funds from Haiti where Wood was working with Naturopaths Without Borders. More than $30,000 was raised via the YouCaring website, allowing Willis to put together relief supplies, including tin panels for roofing, food and water. The NCNM Clinic donated three suitcases of medical supplies, and the college's Portland neighbor, the Southwest Charter School, conducted a fundraiser to help. Willis reached Karmidanda five days after the quake.
Moore had another thing working for her. The participatory development program she had helped start basically picked up where it left off, with the villagers working on the same basics as before, but with the added help of in-country relief nonprofits. As she put it, "everything had changed and nothing had changed," referring to the continuing needs and her commitment to stay on until basic, sustainable services were in place.
The Spanish Red Cross donated emergency toilets. Blankets and mosquito nets, the latter in anticipation of the coming seasonal monsoons and the potential for malaria, came from YouCaring funds. As a result, the village saw relief much faster than much of the rest of the country, said Moore. The imminent rains gave the whole relief effort a heightened sense of urgency, she said, starting with getting people out of tents and tarp shelters into temporary, but hardier structures of tin and wood reclaimed from destroyed houses.
Karmidanda weathered the monsoons well, said Moore, but there still is much work to do to help the village achieve sustainability. Even in the best of times, Nepal is one of the poorest countries in the world. To that end, Moore formed a new nonprofit called ParticipAid, with the goal of refining the participatory development process. She hopes the concept will not only continue to be applied in Nepal, but serve as a model for other areas in need. "It puts the power of development more in the hands of the people where it belongs."
A message from Dr. Erin Moore & Nat Willis:
https://vimeo.com/150956099
Editor's Note: ParticipAid is now part of NCNM's Helfgott Research Institute as an independent project.