PORTLAND Ore (June 21, 2016):  On July 5, 2016, Cascade AIDS Project (CAP) and National College of Natural Medicine (NCNM) will launch primary care services at CAP's LGBTQ wellness center, Pivot, located at 209 SW 4th  Avenue, Portland OR, 97204. This is made possible through a collaborative agreement between the two organizations and a shared commitment to the health and well-being of Portland's LGBTQ Community. NCNM's healthcare services are offered in addition to the sexually transmitted infection testing and treatment services already offered by CAP in collaboration with by Multnomah County at Pivot. Pivot is a community space dedicated to the health and wellness of all gay/bisexual/queer men and trans-identified people with a focus on sexual health and HIV.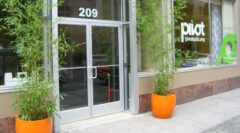 "Patient centered care has always been the norm for ND's," said NCNM Chief Medical Officer, Regina Dehen, ND, LAc.  "We have been offering care to the LGBTQ community in Portland for many years—including services for the transgender community. We feel lucky to be able to continue this tradition at CAP."
"We are thrilled to be able to work with NCNM to offer these services," said CAP Executive Director, Tyler TerMeer. "As CAP is opening an LGBTQ-focused primary care clinic in early 2017, developing these types of partnerships now will increase the range and effectiveness of patient-centered services we can provide to the community."
NCNM will transition primary care patients to Pivot from an existing practice location and will work with area advocates, service providers, and partners to build the practice. Primary care, STD testing and treatment, women's health care, hormone therapy, acupuncture, and more will be available at the clinic. Patients can call 503.552.1551 to schedule an appointment. Hours of operation will be:
Primary care services:
Monday, 12:30-4:30 p.m.
Tuesday, 8:30 a.m.-12:30 p.m.
Thursday, 8:30 a.m.-12:30 p.m.
Group Acupuncture will be available:
Tuesday, 9 a.m.-1 p.m.
Patients with insurance, including OHP and CareOregon, as well as those who are uninsured will be able to access care. Patients paying for care themselves will be offered access to a schedule of discounts based on income, however, no one will be turned away.
About NCNM:
National College of Natural Medicine (NCNM) offers naturopathic and Chinese medical care.   Our clinics are academic medical centers that employ the best and brightest of NCNM's medical faculty. We offer high-quality of care to patients, an integration of the best of biomedical science alongside ancient and traditional healing modalities.
Through our 15 clinics across the Portland metro area, teams of physicians, acupuncturists and students help the patients utilize the most appropriate natural medicine technique that will address each individual's health condition.
NCNM, established in 1956, is the oldest accredited naturopathic medical college in North America and a leader in natural medicine education and training. www.ncnm.edu.
About Cascade AIDS Project

Cascade AIDS Project (CAP) is the oldest and largest AIDS Service Organization in Oregon and Southwest Washington. CAP's mission is to prevent HIV infections, support and empower people living with or affected by HIV, and eliminate HIV-related stigma and health disparities. CAP's LGBTQ-focused clinic located at 2236 SE Belmont Street is slated to open in in early 2017. The clinic will offer a safe, affirming, and non-judgmental space where all members of the LGBTQ community can obtain the compassionate and culturally effective health care they need and deserve. In addition to comprehensive primary care, it is anticipated that the clinic will offer specialized services for the transgender community, HIV and sexual transmitted disease testing, mental health care, and specialty pharmacy services. More information can be found at www.cascadeaids.org.