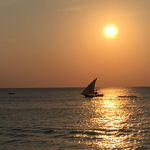 Habari gani –
The waves around Zanzibar continue to provide the soundtrack for this last part of my journey. The tide is in, and I think the chupis I have drying on my balcony may get wet from the spray. Hey, it's a first world problem. Wet chupis. I'm sure I'll survive.
I thought I'd share of our TIA (This is Africa) moments of the last couple of days with you.
We had booked a hotel near the airport, as we knew we had to make eight different trips to drop of our students and Paul. Our plan to have a short airport commute was foiled by a traffic cop with no idea how to direct traffic. He was creating a traffic jam, rather than solving one. He stood in the middle of the road waving people on who wanted to go straight, but not letting anyone turn. For 30 minutes no one turned. You can imagine the number of cars that accumulated. And people don't exactly like straight lines around here. It was insane. Cars were pointed every which direction as no one could turn. "Why is he so bad?" asked Teja, one of the students. TIA. At least his inability to direct traffic meant we had time to order ice cream from a guy on a bicycle riding through traffic – and eat it – before turning.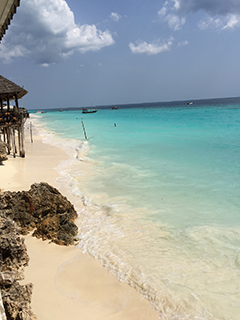 Our last couple of hotels in Dar were a bit…interesting. There are plenty of luxury hotels in Dar. But I have the philosophy of not making the last night too comfortable or students may never want to leave. So we booked a neighborhood hotel near where Julius lives. To say the hotel had a few issues would be an understatement. It was missing towels and sheets, and had pillows made of hard foam. Keep the comfort to a minimum – yes, they followed that philosophy. The random insects that were biting some students were just an extra touch. Most of the group was gone by 8 a.m., so they didn't have long to endure a true Dar hotel experience.
The remaining students woke up hungry. In Julius's neighborhood, there aren't a lot of restaurants. Instead, there are food stands where chips (French fries) and samosas bake in a glass cake in the African sun. Benson managed to find us a place that would make chapatis and eggs, but we had to walk a little ways to get to it. As we were walking along, we suddenly heard kids crying. We all looked around. Turns out, it wasn't human kids at all. Coming up the road was a motorcycle carrying two humans and two goats. The goats were in a basket at the back of the motorcycle, each goat facing a different direction. It actually looked like they were astride the motorcycle with the humans. And they were shouting 'Weeee' in goat language… You always see strange things being carried on a motorcycle around here, but this was my first time for goats on a motorcycle. TIA.
We moved from the completely uncomfortable hotel to a slightly more comfortable hotel – sheets and towels included. The second hotel had bathroom issues. I got my first clue there was something wrong when I reached for the toilet paper. Didn't find it. "Damn, out of toilet paper," I thought. And then I looked up. The toilet paper holder was over my head – it was way over my head at maybe six feet high. There was no way to reach it from the toilet. TIA. The shower was also a bit comical. The shower was the wand-type. It wasn't up high, but rather was propped on the spigot coming out of the wall. When I turned on the water, there was a little drip of water – no water pressure at all to speak of. There was such little pressure that if you turned the wand over so that the water should shoot into the air, nothing came out at all. If you had the head turned down, you got a drip. Try washing shampoo out of your hair with that. TIA. When I get home, I'm taking a 40-minute hot shower, just to remind myself that I'm a spoiled American.
And then there are the roosters. Chickens run wild in these parts, and so do the roosters. And most of the roosters can't tell time, so they crow all night. The rooster at this hotel crowed all night and all day. If I were to ever live in Tanzania, I would be inspired to genetically engineer a silent rooster.
After getting all of the students on their way, Elizabeth, Julius, and I took off for Zanzibar. We booked a taxi – and what a taxi. This taxi minivan had a mini TV screen in the dash and played Tanzanian music videos all day. Julius had called a driver that we had last year. Usually, that's how you get the best deal on a taxi. If you use the hotel, they add on a percentage – often 30 percent or more. So traveling with Julius who gets a local price and is a great negotiator as well saves us a lot of money. In this case, Julius called the driver, and he didn't come, but sent a friend in his place. Then, when we had just left the hotel premises, the friend jumped out of the taxi, and the driver we had called jumped in. He drove us the equivalent of three blocks, and then he jumped out and his 'brother' jumped in. Switching drivers happens all the time. But three drivers before we even hit the main road?
Taxis require a permit. I don't know how difficult it is to get a permit. I assume it must not be easy because I've never seen anyone have a real one. This crew of drivers had an interesting strategy. They had a permit from the past – seemed to be about a year old. Using the heat from the cigarette lighter, they erased the ink for the date and the driver, and then wrote in a new date and driver. Clever. Except that this is Africa. When they wrote in the new date, they put the wrong one. So when we were pulled over by the police, the permit was still wrong. I call that a Homer Simpson moment. Our poor driver, Sulay, was completely perplexed when he got a ticket for an expired permit. TIA.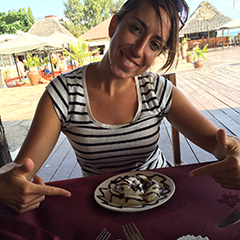 Then there's the food. The hotels in Nungwe try to cater to westerners. You find 'American Cheeseburger' and 'Spaghetti' on almost every menu. Elizabeth spotted 'Banana Split' on the desert menu at our hotel. Elizabeth is a banana fiend – and finding a banana split in Nungwe made her day. When the server came, she said, "I'll have the banana split." I'm thinking, hmmmm. I wonder if they even know what a banana split is. Sure enough, the server gave her a blank stare. A different server came over with a menu. We pointed at the banana split on the menu. "OK," she said. About five minutes later, she came back with a banana cut in two on a saucer. Yes, it was a banana. Split. We laughed. Clearly no one has ever ordered a banana split at this place. I Google-imaged banana split and showed her a picture. Back to the drawing board. Next thing we know, there's three of the wait staff and a manager gathered around a cell phone trying to recreate a banana split with what they have. The pictures have whipped cream, cherries, caramel sauce. I've never seen any of these things in Tanzania. I told Elizabeth that I was pretty sure she was going to have tomato and cucumber on her split. What came back was a small teaspoon of ice cream, the cut banana, and some Hershey's syrup on a plate. With a serving spoon to eat it. TIA.
After setting up some fantastic relationships for next year's trip, including one with a local chiropractor, it was time to head for home. Okay, truthfully, I thought I was heading home tomorrow. If Delta hadn't sent me the reminder that my flight is tonight and it's time to check in, I would have missed the flight entirely. We flew out of the domestic airport in Zanzibar back to Dar. That's where the next two TIA moments happened. First of all, the check in desk in the local airport is a small, maybe 4-foot counter, with about 10 guys crushed behind it trying to check people in for multiple local commuter airlines. There's a set of glass doors behind the counter that was supposed to be used for baggage check. However, it looks like someone has used a thick chain link to lock the doors together… and then they lost the key. So the window beside the doors is punched out and people are passing luggage and bodies through the window. TIA.
The next TIA moment happened when we went to board the plane. These planes are little – usually 10 seaters. So, usually, you just walk on the tarmac to the plane. Today, they called our flight, and we walked outside. The Coastal Airline plane was maybe two car lengths in front of us. As we started toward the plane, the agent called to us, No! We needed to get on the bus. So the 10 of us boarded a bus. The bus proceeded to drive to the end of the tarmac, flip a U turn, and then came right back to the plane. TIA.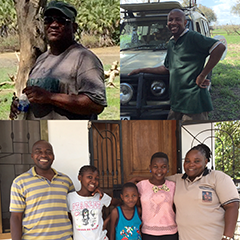 So now I'm getting ready to head to the airport. It's going to be so hard to leave. For nine years I've been coming to Tanzania, and the people here are like family. John, one of our drivers, came to have a beer with me and Julius this afternoon. His brother, George, another driver/friend, died suddenly this year and John doesn't take anything for granted anymore. He hugged me for a long time. "I just love you and your students," he said. "You don't treat us like servants or workers. You treat us like friends. You are the best people we work with." Good. That's always my intention. Sky, another of our driver/friends called to make sure I know that he loves me, and that, God willing, we will see each other next year. He's been sending pictures of our group to me all day. And Julius and his family are my second family. I've been watching his daughters grow up. They want to spend time with me in the US, so they've been working on their English. The closer I get to my friends here, the harder it is to leave – even though I miss all of my friends at home too.
I'd better get back to packing. Wish me good travel karma!
Sending love to you!
Heather