NUNM's ND class of 2022 added a new piece to their wardrobes last Friday―the white coat. The white coat is a rite of passage at NUNM, as budding naturopathic students take the first step toward becoming NDs.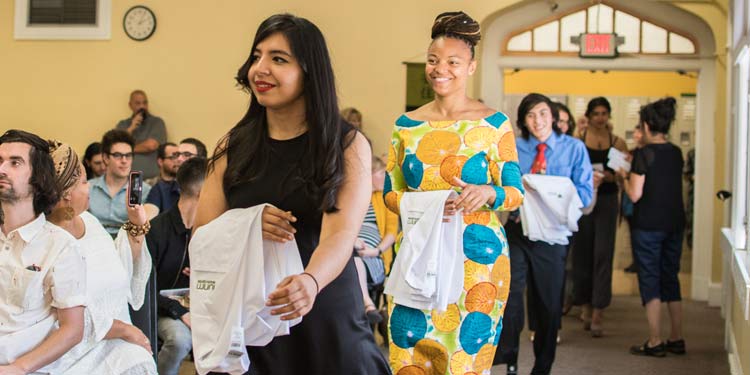 Until the 19th century, physicians wore black clothing. Black was thought to be a formal color, worn by priests and certain other respected professions. Since medical encounters were also thought to be formal and serious matters, doctors followed in the clergy's choice of color. However, at the turn of the 20th century, doctors and nurses began to wear white, which many believe was linked to the new cleanliness standards. The color white showed contamination, therefore protecting the patients and the doctors. Eventually the white coat was the standard garb for physicians and symbolized knowledge of health and medicine.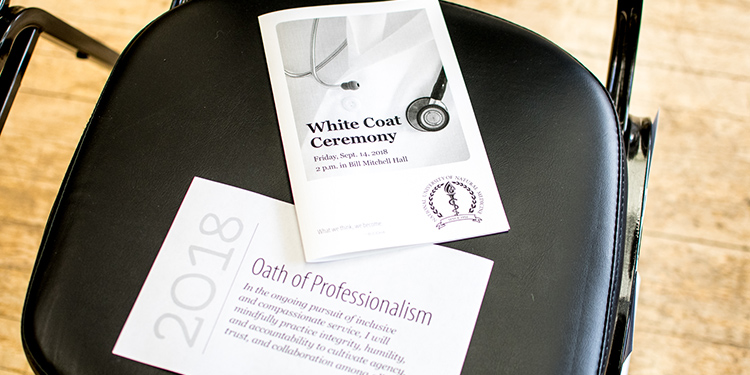 The white coat ceremony is a celebration of the transition into medical school, a dedication to the practice of naturopathic medicine and a formal arrival into our community of healers and practitioners. Led by Dr. Carrie Baldwin-Sayre, this year's cohort of incoming students created their own oath of professionalism: "In the ongoing pursuit of inclusive and compassionate service, I will mindfully practice integrity, humility and accountability to cultivate agency, trust and collaboration among all."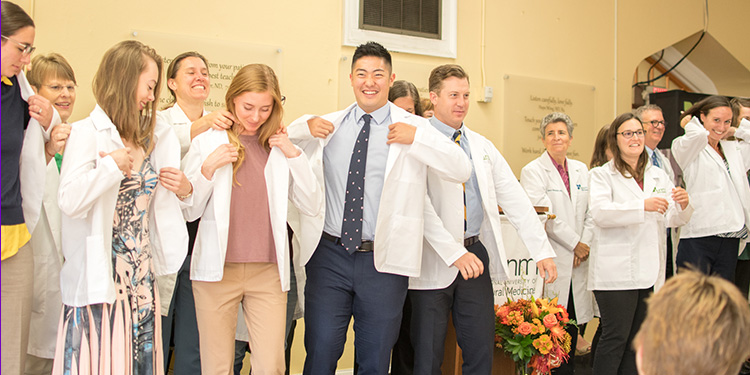 The ceremony, the first step toward long-held dreams, is always palpable with excitement. This year was no different as the naturopathic doctoral candidates were helped into their new white coats, beaming with delight at friends and family in the audience. With fresh eyes and open hearts, the newest members of NUNM's ND program are entering the field of medicine at a very promising time. Naturopathic medicine is now highly recognized, and more patients, hospitals and medical groups are seeking out NDs to be a part of their healthcare practices and integrative clinics. Our ND students have another advantage as they move toward their chosen profession. NUNM's Helfgott Institute is the leader in integrative health research, providing tools for students and graduates alike to develop and publish their own studies, while contributing to the growing body of evidence-based research for natural medicine.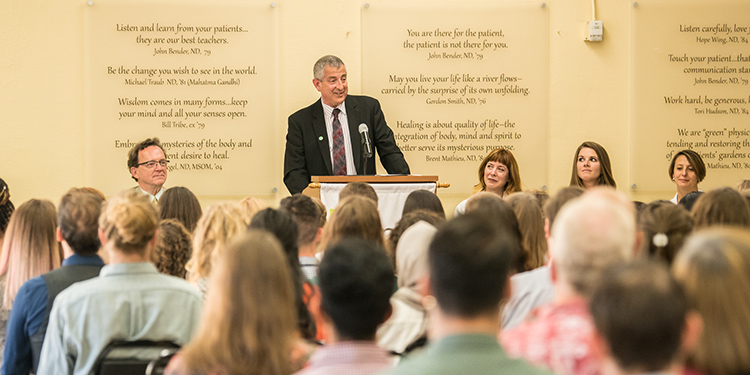 At the ceremony on Friday, Provost Glenn Smith, EdD, offered words of encouragement for the newest class, "Through training, study and reflection you will come to know more about healing―and more about what it is to be a naturopathic doctor. Know that the knowledge you gain may well change the world one patient at a time."