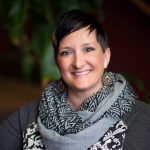 Dr. Jade Dandy earned her Doctor of Naturopathic Medicine at NUNM while concurrently earning a Master of Science in Integrative Medicine Research (MSIMR) with a focus on Lyme disease, chronic fatigue syndrome and fibromyalgia. After graduation in 2014, she moved to the unlicensed state of Idaho, opened a clinic in Boise and grossed over six figures within her first year. She employs a nurse practitioner, another naturopath and other healthcare professionals at her practice. Additionally, Dr. Dandy runs a satellite clinic in Rexburg, Idaho, and is preparing to open another clinic in Ontario, Oregon. Her clinics see an average of 120 patients a week.
What's the #1 piece of advice to prospective and current ND students?
To those who dream of becoming a naturopathic doctor, people are hungry and ready for our medicine. NDs are healing health care! We need you is the first thing that comes to mind. But the second thing I would like to say is do not practice this medicine in fear. When I graduated, I was so fearful of everything. One night when I was mediating, I realized that if I am practicing naturopathy in fear, I cannot help my patients. With that said, we use a great deal of caution, but patients need advocates for their care and that is what we do every day. The next thing I would say is be prideful in the "kind" of doctor you are. So often in school I heard people explain, "I am like a regular doctor, but…." But we are not like regular doctors, we do not have a pill for every ill. We customize care for the patient in front of us, while trying to get to the underlying cause of their health issues. I believe in this medicine with so much of my being that many days I come home from a day of 16 patients and weep that Western medicine is failing them, and that there is a gaping hole in medicine and patients simply fall into it. To those who dream of becoming a naturopathic doctor, people are hungry and ready for our medicine.
Tell us more about your clinic in Boise, Idaho.
We practice full naturopathy at our clinic, where patients receive constitutional homeopathic remedies, herbal therapies, IV nutritional therapy and manipulation, and are required to do at least 4–10 treatments of constitutional hydrotherapy. The best part is our patients are getting well!
What initially inspired you to become a naturopathic doctor?
When my husband got sick in our early 20s, I could not believe that we saw so many doctors that didn't have the tools to help us. It was heartbreaking for me to schedule an appointment, have so much hope that we were going to get answers and help for him to feel better; but time and time again, things came back normal and he was offered medications for anxiety and depression. Finally we found a holistic practitioner who suggested that we have him tested for Lyme, and sure enough, it came back positive. We now had an answer, but sadly found out that so many people were not willing or able to treat this illness. Finding an answer had only led us down more rabbit holes. The final straw came after my husband had a heart attack, but a cardiologist told us to come back because nothing was wrong with him. I could no longer tolerate the injustice. I decided it was time for me to go to school to help people who had no answers. When trying to decide what kind of doctor to become, I knew that I was going to need a larger tool box than what Western doctors had to offer, and so I chose to become an ND.
Why did you choose NUNM for ND school?
I honestly did not fully know what I was getting myself into, but since we already lived in Portland, it seemed like the right choice. But then I had an incredible experience―I had a dream one night and this wonderful women was in it; then the next weekend, we were at the Portland Farmers market and a woman walked by me and I could have sworn it was the woman from my dream. When I showed up for my NUNM tour, we were greeted by an admissions counselor who was the same woman from my dream and that I had seen at the market. I knew then that this was a sign that I was right where I needed to be.
What are the biggest challenges of practicing in an unlicensed state and how did you overcome?
I think that the biggest challenge for me is not wanting to practice in a limited scope. I knew within the first year of being in Idaho that I was going to need a team of people to help realize what I wanted my practice to be. I ended up hiring a nurse practitioner and that helped with a lot of the licensing needs. I have since hired an MA, RN, MD and another ND/LAc. We are a team and I believe that it takes a team to get someone well. You cannot supplement people out of a lot of illnesses and so having multiple modalities and treatment options for patients is what we have created at The Healing Hut. I also carry malpractice insurance and have a lawyer to make sure that we are doing everything properly within our limits, but in Idaho it can be challenging where there is so much gray area.
This year The Healing Hut is projected to gross over seven figures! NUNM couldn't be prouder of this ND's success in Idaho and Oregon.