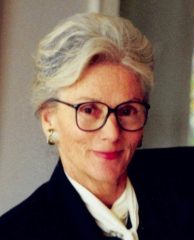 PORTLAND, Oregon—National University of Natural Medicine mourns the loss of Maryellen Weed Olson, who served on the board of the former National College of Naturopathic Medicine (now NUNM) for several years in the 1980s. This was a critical time in NUNM's history, a time of concern about the school's future. Maryellen Olson is remembered as one of a number of unsung heroes of that time. Her dedication and devotion successfully helped guide NUNM through a difficult period to a bright future of growth and promise.
Maryellen was born in Cleveland, Ohio, where her family placed great value on education. She graduated with a degree in education from the University of Dayton in 1954 and taught elementary school in Cleveland, Denver, and Casper, Wyoming. She married David H. Olson in 1961, and together they raised two sons and two daughters, moving from Casper to Halfway, Oregon, and Portland.
Ms. Olson became passionate about natural medicine when her sister was diagnosed with cancer in the early '70s. She took her sister to Boulder, Colorado, to see a well-known German herbalist and healer, Hannah Kroeger. Then and there, her lifelong journey with natural medicine and sustainability began.
In addition to her support for natural medicine, Ms. Olson was an early advocate of organic gardening, environmental protection and more. She was someone who was far ahead of her time, and she shared her understanding of the health implications of natural living with her family.
Ms. Olson joined the NCNM board in 1981, working closely with several other early supporters of naturopathic medicine in Oregon, including the late Dr. Ravinder Sahni. Drs. Bruce Canvasser and Jerry Schlesser both worked with her during those years and shared fond memories.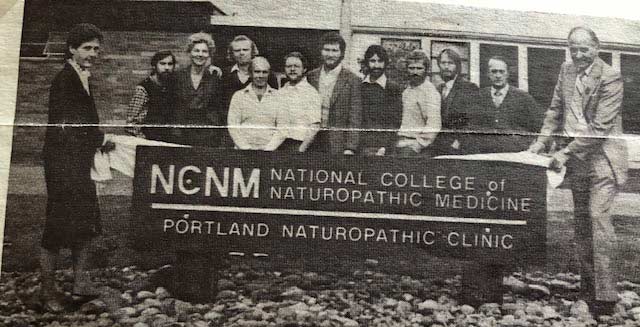 Dr. Canvasser wrote: "Maryellen was wonderful. She was so supportive and instrumental to the growth of the naturopathic college in Oregon and helped to make it the important institution it has become today. I feel fortunate that I was able to know and work with her during those formative years. She was very dedicated and her input was so valuable."
Dr. Schlesser, who was chairman of the board and also worked with her during this time said: "She was such a delightful person, always a kind word, always a positive influence. Both of them [Maryellen and her husband, Dave] were very supportive at a particularly critical time for the institution…It was an act of generosity—and beyond—to give of themselves in so many ways to the school when there was no guarantee that it was going to survive. People don't realize the contribution that was made back in those days. There were very few people in the community outside of the naturopathic world who were as committed. There was no reward; they did it purely out of faith and their ideal vision of health care."
Ms. Olson passed away at the age of 86. She was preceded in death by her husband, David; her parents, brothers and sisters. She is survived by her four children, Steven, John, Marian and Karen; three grandchildren; and many nieces and nephews.
Internment and Remembrances
A service will be held for Maryellen Olson on Friday, March 8, at Mt. Calvary Cemetery in Portland, with internment. Before her death, Ms. Olson requested that, in lieu of flowers, donations be made to NUNM in her honor, an institution she for which she did so much to keep it financially sound and to help it thrive. Our students and graduates are the beneficiaries of Ms. Olson's generous efforts and resources.
###