Thanks to the generosity of Michael Chilton, a long-time supporter of NUNM, a special mid-year scholarship opportunity is being made available for the upcoming Spring 2022 term.
The "Innovation in Wellbeing" scholarship will be awarded to five current full-time students in the amount of $3,000 each. The scholarships will be distributed for the Spring 2022 term from the Financial Aid Office. Please note that the deadline to apply is February 25, 2022.
Scholarship Criteria
All currently registered full-time students qualify for this scholarship.
Student must meet NUNM's academic achievement standards and be in good standing.
Student must meet NUNM's enrollment requirements.
This is a need-based scholarship. All scholarships determined by financial need are based on needs analysis results from the Free Application for Federal Student Aid (FASFA).
To apply for this scholarship, please complete the form linked below, then upload your 470–500-word essay at the end of the form addressing the following:
What do you see are current barriers or challenges for individuals and communities to achieve desired levels of health and wellbeing?
Focusing on innovative methods and approaches, discuss how you, as an individual, will help to create a more healthful society.
Apply here: "Innovation in Wellbeing" Scholarship Application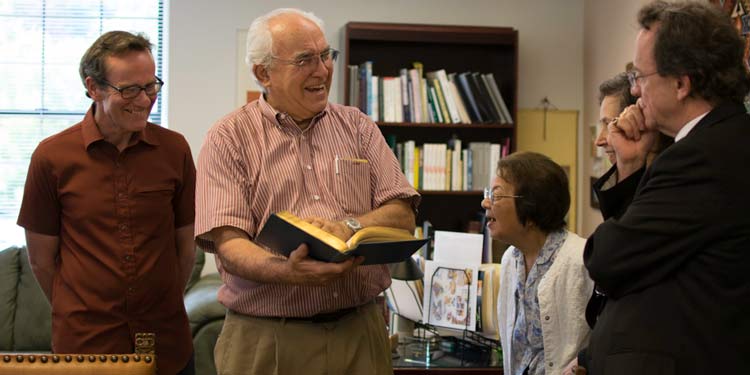 Michael Chilton is a long-time supporter of natural medicine and NUNM. He and his wife Simone, who passed away in 2020, provided funding for the creation of the Minh Chau Garden. In addition, the NUNM Library features a special collection built around the Chiltons' donation of more than 2,000 books in the subject area of botanical sciences, including many rare herbal books from the 16th, 17th, 18th and 19th centuries.
"NUNM is a key element in actively changing the philosophy and direction of the medical profession. NUNM is very accessible, rapidly growing in professional acceptance, and open to greater society. Should one think back on their life's purpose, leaving a place in better condition than it was upon arrival could be one of our most important milestones."

-Michael Chilton
For more information about the scholarships, email Dr. Carrie Baldwin-Sayre, NUNM Director of Development, at cbsayre@nunm.edu.