From the office of the President, CEO and Chief Academic Officer Melanie Henriksen, ND, LAc, CNM:
Serving as Chief Academic Officer and President, and on behalf of the program deans as well as the dedicated faculty promotions committees, I am delighted to announce the promotion of two faculty members from Assistant to Associate Professor, effective July 1, 2023:
Kimberly Queen, DC, MS, CNS, DACBN
It is a pleasure to recognize Dr. Ermac and Dr. Queen for their outstanding performance, leadership and dedication. Their contributions to clinical and academic excellence continue to meaningfully impact our clinic, classrooms, community and the field of natural medicine. Please join me in congratulating Associate Professor Dr. Maleah Ermac and Associate Professor Dr. Kimberly Queen.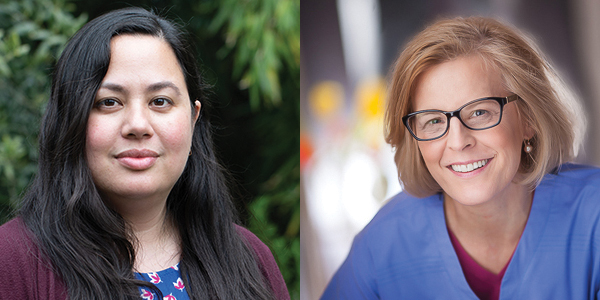 Dr. Maleah Ermac is a primary care naturopathic physician. She completed a three-year family practice residency at NUNM, which included an emphasis in acute care, sexual health, transgender health, gynecology, pharmaceutical management, and chronic disease. She is currently an associate professor and attending physician at the university, where she teaches transgender medicine and clinical education classes. Dr. Ermac enjoys teaching medical interns clinical skills and in her free time volunteers at Outside In medical clinic, providing laser tattoo removal for gang and prison-related tattoos.
Kimberly Queen, DC, MS, CNS, DACBN
Dr. Kimberly Queen is a licensed chiropractic physician, Diplomate of the American Clinical Board of Nutrition, Certified Nutrition Specialist, and an approved CNS supervisor. She received her Master of Science in Nutrition from the University of Bridgeport, focusing on functional medicine.
Dr. Queen is the Clinical Nutrition Curriculum Director, responsible for developing the MScN clinical track curriculum, Standards of Clinical Performance, Postgraduate Clinical Internship Handbook, and a video learning library. She is also Assistant Professor in the BScN and MScN programs and mentors self-study Capstone students for CNS Supervised Practice Experience hours.
Dr. Queen supervises the telehealth encounters in the Clinic Nutrition Rotation, helping postgraduate interns as they work directly with patients, review cases, and develop professional competencies and clinical proficiency skills, including examination protocols and clinical laboratory test ordering and interpretation.