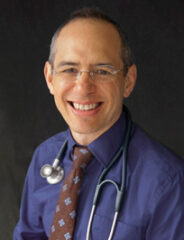 Gary Martin Weiner, beloved husband, father, son, naturopathic physician, and friend, passed away surrounded by family, peacefully at home on January 3, 2020, in Portland, Oregon. He was born on July 24th, 1957, in Los Angeles to Dorothy and Larry Weiner.
Gary was a mensch. A generous and enthusiastic person who warmly loved his family and friends. He held high standards for himself and for everything he did. Earlier in life, Gary attended the University of California, Berkeley, where he graduated Phi Beta Kappa. Taking his grandmother's advice to heart, "everything is alright as long as you are in school", Gary continued his education for many years to come. In 1979, he moved to New York to attend graduate school in film at New York University's Tisch School of the Arts. For over a decade, Gary worked in the film and television industry and later taught screenwriting at NYU's Tisch School of the Arts and the School of Visual Arts New York City. Over the course of his time as an aspiring New Yorker, he met many lifelong friends, most importantly a fortuitous encounter on a Brooklyn D train brought him his life-long love, Ellen Goldsmith.
In 1993, he moved to Portland, Oregon to attend National University of Natural Medicine where, in 1997, he earned his Doctor of Naturopathic Medicine. He also earned his Masters of Science in Oriental Medicine at NUNM's College of Classical Chinese Medicine. In 2001, alongside his wife, Ellen, he established Pearl Natural Health, an integrative naturopathic and Chinese medicine clinic in Portland, Oregon. Over the course of the past 22 years, his passion for medicine and his drive to help others only grew, expanding his contributions. He developed an integrative approach to treating his patients specializing in naturopathic gastroenterology and worked as a doctor and teacher to apply these principles for the benefit of his patients and peers. He was an esteemed member of the naturopathic community, a frequent speaker and writer on the treatment of Inflammatory Bowel Disease, a beloved doctor to the many patients he inspired and helped, as well as a mentor to naturopathic students and residents.
He is survived by his wife, Ellen and daughter, You Lian, as well as his mother, Dorothy and brother, Dennis. But, Gary did not just belong to his immediate family, he leaves behind loving friends, brothers- and sisters-in-law, a beloved mother-in-law, cousins, nieces and a nephew who will never forget their dear Gary.
In lieu of flowers the family asks that you make a donation to a scholarship in his name – the Gary M. Weiner Scholarship for Integrative Gastroenterology at National University of Natural Medicine.